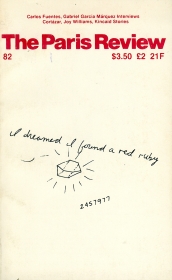 Gabriel Garcia Marquez, The Art of Fiction No. 69
Gabriel García Márquez was interviewed in his studio/office located just behind his house in San Angel Inn, an old and lovely section, full of the spectacularly colorful flowers of Mexico City. The studio is a short walk from the main house. A low elongated building, it appears to have been originally designed as a guest house. Within, at one end, are a couch, two easy chairs, and a makeshift bar—a small white refrigerator with a supply of acqua minerale on top.
The most striking feature of the room is a large blown-up photograph above the sofa of García Márquez alone, wearing a stylish cape and standing on some windswept vista looking somewhat like Anthony Quinn.
García Márquez was sitting at his desk at the far end of the studio. He came to greet me, walking briskly with a light step. He is a solidly built man, only about five feet eight or nine in height, who looks like a good middleweight fighter—broad-chested, but perhaps a bit thin in the legs. He was dressed casually in corduroy slacks with a light turtleneck sweater and black leather boots. His hair is dark and curly brown and he wears a full mustache.
The interview took place over the course of three late-afternoon meetings of roughly two hours each. Although his English is quite good, García Márquez spoke mostly in Spanish and his two sons shared the translating. When García Márquez speaks, his body often rocks back and forth. His hands too are often in motion making small but decisive gestures to emphasize a point, or to indicate a shift of direction in his thinking. He alternates between leaning forward towards his listener, and sitting far back with his legs crossed when speaking reflectively.
INTERVIEWER
How do you feel about using the tape recorder?
GABRIEL GARCÍA MÁRQUEZ
The problem is that the moment you know the interview is being taped, your attitude changes. In my case I immediately take a defensive attitude. As a journalist, I feel that we still haven't learned how to use a tape recorder to do an interview. The best way, I feel, is to have a long conversation without the journalist taking any notes. Then afterward he should reminisce about the conversation and write it down as an impression of what he felt, not necessarily using the exact words expressed. Another useful method is to take notes and then interpret them with a certain loyalty to the person interviewed. What ticks you off about the tape recording everything is that it is not loyal to the person who is being interviewed, because it even records and remembers when you make an ass of yourself. That's why when there is a tape recorder, I am conscious that I'm being interviewed; when there isn't a tape recorder, I talk in an unconscious and completely natural way.
INTERVIEWER
Well, you make me feel a little guilty using it, but I think for this kind of an interview we probably need it.
GARCÍA MÁRQUEZ
Anyway, the whole purpose of what I just said was to put you on the defensive.
INTERVIEWER
So you have never used a tape recorder yourself for an interview?
GARCÍA MÁRQUEZ
As a journalist, I never use it. I have a very good tape recorder, but I just use it to listen to music. But then as a journalist I've never done an interview. I've done reports, but never an interview with questions and answers.
INTERVIEWER
I heard about one famous interview with a sailor who had been shipwrecked.
GARCÍA MÁRQUEZ
It wasn't questions and answers. The sailor would just tell me his adventures and I would rewrite them trying to use his own words and in the first person, as if he were the one who was writing. When the work was published as a serial in a newspaper, one part each day for two weeks, it was signed by the sailor, not by me. It wasn't until twenty years later that it was re-published and people found out I had written it. No editor realized that it was good until after I had written One Hundred Years of Solitude.
INTERVIEWER
Since we've started talking about journalism, how does it feel being a journalist again, after having written novels for so long? Do you do it with a different feel or a different eye?
GARCÍA MÁRQUEZ
I've always been convinced that my true profession is that of a journalist. What I didn't like about journalism before were the working conditions. Besides, I had to condition my thoughts and ideas to the interests of the newspaper. Now, after having worked as a novelist, and having achieved financial independence as a novelist, I can really choose the themes that interest me and correspond to my ideas. In any case, I always very much enjoy the chance of doing a great piece of journalism.
INTERVIEWER
What is a great piece of journalism for you?
GARCÍA MÁRQUEZ
Hiroshima by John Hersey was an exceptional piece.
INTERVIEWER
Is there a story today that you would especially like to do?
GARCÍA MÁRQUEZ
There are many, and several I have in fact written. I have written about Portugal, Cuba, Angola, and Vietnam. I would very much like to write on Poland. I think if I could describe exactly what is now going on, it would be a very important story. But it's too cold now in Poland; I'm a journalist who likes his comforts.
INTERVIEWER
Do you think the novel can do certain things that journalism can't?
GARCÍA MÁRQUEZ
Nothing. I don't think there is any difference. The sources are the same, the material is the same, the resources and the language are the same. The Journal of the Plague Year by Daniel Defoe is a great novel and Hiroshima is a great work of journalism.
INTERVIEWER
Do the journalist and the novelist have different responsibilities in balancing truth versus the imagination?
GARCÍA MÁRQUEZ
In journalism just one fact that is false prejudices the entire work. In contrast, in fiction one single fact that is true gives legitimacy to the entire work. That's the only difference, and it lies in the commitment of the writer. A novelist can do anything he wants so long as he makes people believe in it.
INTERVIEWER
In interviews a few years ago, you seemed to look back on being a journalist with awe at how much faster you were then.
GARCÍA MÁRQUEZ
I do find it harder to write now than before, both novels and journalism. When I worked for newspapers, I wasn't very conscious of every word I wrote, whereas now I am. When I was working for El Espectador in Bogotá, I used to do at least three stories a week, two or three editorial notes every day, and I did movie reviews. Then at night, after everyone had gone home, I would stay behind writing my novels. I liked the noise of the Linotype machines, which sounded like rain. If they stopped, and I was left in silence, I wouldn't be able to work. Now, the output is comparatively small. On a good working day, working from nine o'clock in the morning to two or three in the afternoon, the most I can write is a short paragraph of four or five lines, which I usually tear up the next day.
INTERVIEWER
Does this change come from your works being so highly praised or from some kind of political commitment?
GARCÍA MÁRQUEZ
It's from both. I think that the idea that I'm writing for many more people than I ever imagined has created a certain general responsibility that is literary and political. There's even pride involved, in not wanting to fall short of what I did before.
INTERVIEWER
How did you start writing?
GARCÍA MÁRQUEZ
By drawing. By drawing cartoons. Before I could read or write I used to draw comics at school and at home. The funny thing is that I now realize that when I was in high school I had the reputation of being a writer, though I never in fact wrote anything. If there was a pamphlet to be written or a letter of petition, I was the one to do it because I was supposedly the writer. When I entered college I happened to have a very good literary background in general, considerably above the average of my friends. At the university in Bogotá, I started making new friends and acquaintances, who introduced me to contemporary writers. One night a friend lent me a book of short stories by Franz Kafka. I went back to the pension where I was staying and began to read The Metamorphosis. The first line almost knocked me off the bed. I was so surprised. The first line reads, "As Gregor Samsa awoke that morning from uneasy dreams, he found himself transformed in his bed into a gigantic insect. . . ." When I read the line I thought to myself that I didn't know anyone was allowed to write things like that. If I had known, I would have started writing a long time ago. So I immediately started writing short stories. They are totally intellectual short stories because I was writing them on the basis of my literary experience and had not yet found the link between literature and life. The stories were published in the literary supplement of the newspaper El Espectador in Bogotá and they did have a certain success at the time—probably because nobody in Colombia was writing intellectual short stories. What was being written then was mostly about life in the countryside and social life. When I wrote my first short stories I was told they had Joycean influences.
INTERVIEWER
Had you read Joyce at that time?
GARCÍA MÁRQUEZ
I had never read Joyce, so I started reading Ulysses. I read it in the only Spanish edition available. Since then, after having read Ulysses in English as well as a very good French translation, I can see that the original Spanish translation was very bad. But I did learn something that was to be very useful to me in my future writing—the technique of the interior monologue. I later found this in Virginia Woolf, and I like the way she uses it better than Joyce. Although I later realized that the person who invented this interior monologue was the anonymous writer of the Lazarillo de Tormes.
INTERVIEWER
Can you name some of your early influences?
GARCÍA MÁRQUEZ
The people who really helped me to get rid of my intellectual attitude towards the short story were the writers of the American Lost Generation. I realized that their literature had a relationship with life that my short stories didn't. And then an event took place which was very important with respect to this attitude. It was the Bogotazo, on the ninth of April, 1948, when a political leader, Gaitan, was shot and the people of Bogotá went raving mad in the streets. I was in my pension ready to have lunch when I heard the news. I ran towards the place, but Gaitan had just been put into a taxi and was being taken to a hospital. On my way back to the pension, the people had already taken to the streets and they were demonstrating, looting stores and burning buildings. I joined them. That afternoon and evening, I became aware of the kind of country I was living in, and how little my short stories had to do with any of that. When I was later forced to go back to Barranquilla on the Caribbean, where I had spent my childhood, I realized that that was the type of life I had lived, knew, and wanted to write about.
Around 1950 or '51 another event happened that influenced my literary tendencies. My mother asked me to accompany her to Aracataca, where I was born, and to sell the house where I spent my first years. When I got there it was at first quite shocking because I was now twenty-two and hadn't been there since the age of eight. Nothing had really changed, but I felt that I wasn't really looking at the village, but I was experiencing it as if I were reading it. It was as if everything I saw had already been written, and all I had to do was to sit down and copy what was already there and what I was just reading. For all practical purposes everything had evolved into literature: the houses, the people, and the memories. I'm not sure whether I had already read Faulkner or not, but I know now that only a technique like Faulkner's could have enabled me to write down what I was seeing. The atmosphere, the decadence, the heat in the village were roughly the same as what I had felt in Faulkner. It was a banana-plantation region inhabited by a lot of Americans from the fruit companies which gave it the same sort of atmosphere I had found in the writers of the Deep South. Critics have spoken of the literary influence of Faulkner, but I see it as a coincidence: I had simply found material that had to be dealt with in the same way that Faulkner had treated similar material.
From that trip to the village I came back to write Leaf Storm, my first novel. What really happened to me in that trip to Aracataca was that I realized that everything that had occurred in my childhood had a literary value that I was only now appreciating. From the moment I wrote Leaf Storm I realized I wanted to be a writer and that nobody could stop me and that the only thing left for me to do was to try to be the best writer in the world. That was in 1953, but it wasn't until 1967 that I got my first royalties after having written five of my eight books.
INTERVIEWER
Do you think that it's common for young writers to deny the worth of their own childhoods and experiences and to intellectualize as you did initially?
GARCÍA MÁRQUEZ
No, the process usually takes place the other way around, but if I had to give a young writer some advice I would say to write about something that has happened to him; it's always easy to tell whether a writer is writing about something that has happened to him or something he has read or been told. Pablo Neruda has a line in a poem that says "God help me from inventing when I sing." It always amuses me that the biggest praise for my work comes for the imagination, while the truth is that there's not a single line in all my work that does not have a basis in reality. The problem is that Caribbean reality resembles the wildest imagination.
INTERVIEWER
Whom were you writing for at this point? Who was your audience?
GARCÍA MÁRQUEZ
Leaf Storm was written for my friends who were helping me and lending me their books and were very enthusiastic about my work. In general I think you usually do write for someone. When I'm writing I'm always aware that this friend is going to like this, or that another friend is going to like that paragraph or chapter, always thinking of specific people. In the end all books are written for your friends. The problem after writing One Hundred Years of Solitude was that now I no longer know whom of the millions of readers I am writing for; this upsets and inhibits me. It's like a million eyes are looking at you and you don't really know what they think.
INTERVIEWER
What about the influence of journalism on your fiction?
GARCÍA MÁRQUEZ
I think the influence is reciprocal. Fiction has helped my journalism because it has given it literary value. Journalism has helped my fiction because it has kept me in a close relationship with reality.
INTERVIEWER
How would you describe the search for a style that you went through after Leaf Storm and before you were able to write One Hundred Years of Solitude?
GARCÍA MÁRQUEZ
After having written Leaf Storm, I decided that writing about the village and my childhood was really an escape from having to face and write about the political reality of the country. I had the false impression that I was hiding myself behind this kind of nostalgia instead of confronting the political things that were going on. This was the time when the relationship between literature and politics was very much discussed. I kept trying to close the gap between the two. My influence had been Faulkner; now it was Hemingway. I wrote No One Writes to the Colonel, In Evil Hour, and Big Mama's Funeral, which were all written at more or less the same time and have many things in common. These stories take place in a different village from the one in which Leaf Storm and One Hundred Years of Solitude occur. It is a village in which there is no magic. It is a journalistic literature. But when I finished In Evil Hour, I saw that all my views were wrong again. I came to see that in fact my writings about my childhood were more political and had more to do with the reality of my country than I had thought. After The Evil Hour I did not write anything for five years. I had an idea of what I always wanted to do, but there was something missing and I was not sure what it was until one day I discovered the right tone—the tone that I eventually used in One Hundred Years of Solitude. It was based on the way my grandmother used to tell her stories. She told things that sounded supernatural and fantastic, but she told them with complete naturalness. When I finally discovered the tone I had to use, I sat down for eighteen months and worked every day.
INTERVIEWER
How did she express the "fantastic" so naturally?
GARCÍA MÁRQUEZ
What was most important was the expression she had on her face. She did not change her expression at all when telling her stories, and everyone was surprised. In previous attempts to write One Hundred Years of Solitude, I tried to tell the story without believing in it. I discovered that what I had to do was believe in them myself and write them with the same expression with which my grandmother told them: with a brick face.
INTERVIEWER
There also seems to be a journalistic quality to that technique or tone. You describe seemingly fantastic events in such minute detail that it gives them their own reality. Is this something you have picked up from journalism?
GARCÍA MÁRQUEZ
That's a journalistic trick which you can also apply to literature. For example, if you say that there are elephants flying in the sky, people are not going to believe you. But if you say that there are four hundred and twenty-five elephants flying in the sky, people will probably believe you. One Hundred Years of Solitude is full of that sort of thing. That's exactly the technique my grandmother used. I remember particularly the story about the character who is surrounded by yellow butterflies. When I was very small there was an electrician who came to the house. I became very curious because he carried a belt with which he used to suspend himself from the electrical posts. My grandmother used to say that every time this man came around, he would leave the house full of butterflies. But when I was writing this, I discovered that if I didn't say the butterflies were yellow, people would not believe it. When I was writing the episode of Remedios the Beauty going to heaven, it took me a long time to make it credible. One day I went out to the garden and saw a woman who used to come to the house to do the wash and she was putting out the sheets to dry and there was a lot of wind. She was arguing with the wind not to blow the sheets away. I discovered that if I used the sheets for Remedios the Beauty, she would ascend. That's how I did it, to make it credible. The problem for every writer is credibility. Anybody can write anything so long as it's believed.
INTERVIEWER
What was the origin of the insomnia plague in One Hundred Years of Solitude?
GARCÍA MÁRQUEZ
Beginning with Oedipus, I've always been interested in plagues. I have studied a lot about medieval plagues. One of my favorite books is The Journal of the Plague Year by Daniel Defoe, among other reasons because Defoe is a journalist who sounds like what he is saying is pure fantasy. For many years I thought Defoe had written about the London plague as he observed it. But then I discovered it was a novel, because Defoe was less than seven years old when the plague occurred in London. Plagues have always been one of my recurrent themes—and in different forms. In The Evil Hour, the pamphlets are plagues. For many years I thought that the political violence in Colombia had the same metaphysics as the plague. Before One Hundred Years of Solitude, I had used a plague to kill all the birds in a story called "One Day After Saturday". In One Hundred Years of Solitude I used the insomnia plague as something of a literary trick, since it's the opposite of the sleeping plague. Ultimately, literature is nothing but carpentry.
INTERVIEWER
Can you explain that analogy a little more?
GARCÍA MÁRQUEZ
Both are very hard work. Writing something is almost as hard as making a table. With both you are working with reality, a material just as hard as wood. Both are full of tricks and techniques. Basically very little magic and a lot of hard work are involved. And as Proust, I think, said, it takes ten percent inspiration and ninety percent perspiration. I never have done any carpentry but it's the job I admire most, especially because you can never find anyone to do it for you.
INTERVIEWER
What about the banana fever in One Hundred Years of Solitude? How much of that is based on what the United Fruit Company did?
GARCÍA MÁRQUEZ
The banana fever is modeled closely on reality. Of course, I've used literary tricks on things which have not been proved historically. For example, the massacre in the square is completely true, but while I wrote it on the basis of testimony and documents, it was never known exactly how many people were killed. I used the figure three thousand, which is obviously an exaggeration. But one of my childhood memories was watching a very, very long train leave the plantation supposedly full of bananas. There could have been three thousand dead on it, eventually to be dumped in the sea. What's really surprising is that now they speak very naturally in the Congress and the newspapers about the "three thousand dead." I suspect that half of all our history is made in this fashion. In The Autumn of the Patriarch, the dictator says it doesn't matter if it's not true now, because sometime in the future it will be true. Sooner or later people believe writers rather than the government.
INTERVIEWER
That makes the writer pretty powerful, doesn't it?
GARCÍA MÁRQUEZ
Yes, and I can feel it too. It gives me a great sense of responsibility. What I would really like to do is a piece of journalism which is completely true and real, but which sounds as fantastic as One Hundred Years of Solitude. The more I live and remember things from the past, the more I think that literature and journalism are closely related.
INTERVIEWER
What about a country giving up its sea for its foreign debt, as in The Autumn of the Patriarch?
GARCÍA MÁRQUEZ
Yes, but that actually happened. It's happened and will happen many times more. The Autumn of the Patriarch is a completely historical book. To find probabilities out of real facts is the work of the journalist and the novelist, and it is also the work of the prophet. The trouble is that many people believe that I'm a writer of fantastic fiction, when actually I'm a very realistic person and write what I believe is the true socialist realism.
INTERVIEWER
Is it utopian?
GARCÍA MÁRQUEZ
I'm not sure if the word utopian means the real or the ideal. But I think it's the real.
INTERVIEWER
Are the characters in The Autumn of the Patriarch, the dictators, for example, modeled after real people? There seem to be similarities with Franco, Perón, and Trujillo.
GARCÍA MÁRQUEZ
In every novel, the character is a collage: a collage of different characters that you've known, or heard about or read about. I read everything that I could find about Latin American dictators of the last century, and the beginning of this one. I also talked to a lot of people who had lived under dictatorships. I did that for at least ten years. And when I had a clear idea of what the character was going to be like, I made an effort to forget everything I had read and heard, so that I could invent, without using any situation that had occurred in real life. I realized at one point that I myself had not lived for any period of time under a dictatorship, so I thought if I wrote the book in Spain, I could see what the atmosphere was like living in an established dictatorship. But I found that the atmosphere was very different in Spain under Franco from that of a Caribbean dictatorship. So the book was kind of blocked for about a year. There was something missing and I wasn't sure what it was. Then overnight, I decided that the best thing was that we come back to the Caribbean. So we all moved back to Barranquilla in Colombia. I made a statement to the journalists which they thought was a joke. I said that I was coming back because I had forgotten what a guava smelled like. In truth, it was what I really needed to finish my book. I took a trip through the Caribbean. As I went from island to island, I found the elements which were the ones that had been lacking from my novel.
INTERVIEWER
You often use the theme of the solitude of power.
GARCÍA MÁRQUEZ
The more power you have, the harder it is to know who is lying to you and who is not. When you reach absolute power, there is no contact with reality, and that's the worst kind of solitude there can be. A very powerful person, a dictator, is surrounded by interests and people whose final aim is to isolate him from reality; everything is in concert to isolate him.
INTERVIEWER
What about the solitude of the writer? Is this different?
GARCÍA MÁRQUEZ
It has a lot to do with the solitude of power. The writer's very attempt to portray reality often leads him to a distorted view of it. In trying to transpose reality he can end up losing contact with it, in an ivory tower, as they say. Journalism is a very good guard against that. That's why I have always tried to keep on doing journalism, because it keeps me in contact with the real world, particularly political journalism and politics. The solitude that threatened me after One Hundred Years of Solitude wasn't the solitude of the writer; it was the solitude of fame, which resembles the solitude of power much more. My friends defended me from that one, my friends who are always there.
INTERVIEWER
How?
GARCÍA MÁRQUEZ
Because I have managed to keep the same friends all my life. I mean I don't break or cut myself off from my old friends, and they're the ones who bring me back to earth; they always keep their feet on the ground and they're not famous.
INTERVIEWER
How do things start? One of the recurring images in The Autumn of the Patriarch is the cows in the palace. Was this one of the original images?
GARCÍA MÁRQUEZ
I've got a photography book that I'm going to show you. I've said on various occasions that in the genesis of all my books there's always an image. The first image I had of The Autumn of the Patriarch was a very old man in a very luxurious palace into which cows come and eat the curtains. But that image didn't concretize until I saw the photograph. In Rome I went into a bookshop where I started looking at photography books, which I like to collect. I saw this photograph, and it was just perfect. I just saw that was how it was going to be. Since I'm not a big intellectual, I can find my antecedents in everyday things, in life, and not in the great masterpieces.
INTERVIEWER
Do your novels ever take unexpected twists?
GARCÍA MÁRQUEZ
That used to happen to me in the beginning. In the first stories I wrote I had a general idea of the mood, but I would let myself be taken by chance. The best advice I was given early on was that it was all right to work that way when I was young because I had a torrent of inspiration. But I was told that if I didn't learn technique, I would be in trouble later on when the inspiration had gone and the technique was needed to compensate. If I hadn't learned that in time, I would not now be able to outline a structure in advance. Structure is a purely technical problem and if you don't learn it early on you'll never learn it.
INTERVIEWER
Discipline then is quite important to you?
GARCÍA MÁRQUEZ
I don't think you can write a book that's worth anything without extraordinary discipline.
INTERVIEWER
What about artificial stimulants?
GARCÍA MÁRQUEZ
One thing that Hemingway wrote that greatly impressed me was that writing for him was like boxing. He took care of his health and his well-being. Faulkner had a reputation of being a drunkard, but in every interview that he gave he said that it was impossible to write one line when drunk. Hemingway said this too. Bad readers have asked me if I was drugged when I wrote some of my works. But that illustrates that they don't know anything about literature or drugs. To be a good writer you have to be absolutely lucid at every moment of writing, and in good health. I'm very much against the romantic concept of writing which maintains that the act of writing is a sacrifice, and that the worse the economic conditions or the emotional state, the better the writing. I think you have to be in a very good emotional and physical state. Literary creation for me requires good health, and the Lost Generation understood this. They were people who loved life.
INTERVIEWER
Blaise Cendrars said that writing is a privilege compared to most work, and that writers exaggerate their suffering. What do you think?
GARCÍA MÁRQUEZ
I think that writing is very difficult, but so is any job carefully executed. What is a privilege, however, is to do a job to your own satisfaction. I think that I'm excessively demanding of myself and others because I cannot tolerate errors; I think that it is a privilege to do anything to a perfect degree. It is true though that writers are often megalomaniacs and they consider themselves to be the center of the universe and society's conscience. But what I most admire is something well done. I'm always very happy when I'm traveling to know that the pilots are better pilots than I am a writer.
INTERVIEWER
When do you work best now? Do you have a work schedule?
GARCÍA MÁRQUEZ
When I became a professional writer the biggest problem I had was my schedule. Being a journalist meant working at night. When I started writing full-time I was forty years old, my schedule was basically from nine o'clock in the morning until two in the afternoon when my sons came back from school. Since I was so used to hard work, I felt guilty that I was only working in the morning; so I tried to work in the afternoons, but I discovered that what I did in the afternoon had to be done over again the next morning. So I decided that I would just work from nine until two-thirty and not do anything else. In the afternoons I have appointments and interviews and anything else that might come up. I have another problem in that I can only work in surroundings that are familiar and have already been warmed up with my work. I cannot write in hotels or borrowed rooms or on borrowed typewriters. This creates problems because when I travel I can't work. Of course, you're always trying to find a pretext to work less. That's why the conditions you impose on yourself are more difficult all the time. You hope for inspiration whatever the circumstances. That's a word the romantics exploited a lot. My Marxist comrades have a lot of difficulty accepting the word, but whatever you call it, I'm convinced that there is a special state of mind in which you can write with great ease and things just flow. All the pretexts—such as the one where you can only write at home—disappear. That moment and that state of mind seem to come when you have found the right theme and the right ways of treating it. And it has to be something you really like, too, because there is no worse job than doing something you don't like.
One of the most difficult things is the first paragraph. I have spent many months on a first paragraph, and once I get it, the rest just comes out very easily. In the first paragraph you solve most of the problems with your book. The theme is defined, the style, the tone. At least in my case, the first paragraph is a kind of sample of what the rest of the book is going to be. That's why writing a book of short stories is much more difficult than writing a novel. Every time you write a short story, you have to begin all over again.
INTERVIEWER
Are dreams ever important as a source of inspiration?
GARCÍA MÁRQUEZ
In the very beginning I paid a good deal of attention to them. But then I realized that life itself is the greatest source of inspiration and that dreams are only a very small part of that torrent that is life. What is very true about my writing is that I'm quite interested in different concepts of dreams and interpretations of them. I see dreams as part of life in general, but reality is much richer. But maybe I just have very poor dreams.
INTERVIEWER
Can you distinguish between inspiration and intuition?
GARCÍA MÁRQUEZ
Inspiration is when you find the right theme, one which you really like; that makes the work much easier. Intuition, which is also fundamental to writing fiction, is a special quality which helps you to decipher what is real without needing scientific knowledge, or any other special kind of learning. The laws of gravity can be figured out much more easily with intuition than anything else. It's a way of having experience without having to struggle through it. For a novelist, intuition is essential. Basically it's contrary to intellectualism, which is probably the thing that I detest most in the world—in the sense that the real world is turned into a kind of immovable theory. Intuition has the advantage that either it is, or it isn't. You don't struggle to try to put a round peg into a square hole.
INTERVIEWER
Is it the theorists that you dislike?
GARCÍA MÁRQUEZ
Exactly. Chiefly because I cannot really understand them. That's mainly why I have to explain most things through anecdotes, because I don't have any capacity for abstractions. That's why many critics say that I'm not a cultured person. I don't quote enough.
INTERVIEWER
Do you think that critics type you or categorize you too neatly?
GARCÍA MÁRQUEZ
Critics for me are the biggest example of what intellectualism is. First of all, they have a theory of what a writer should be. They try to get the writer to fit their model, and if he doesn't fit, they still try to get him in by force. I'm only answering this because you've asked. I really have no interest in what critics think of me; nor have I read critics in many years. They have claimed for themselves the task of being intermediaries between the author and the reader. I've always tried to be a very clear and precise writer, trying to reach the reader directly without having to go through the critic.
INTERVIEWER
How do you regard translators?
GARCÍA MÁRQUEZ
I have great admiration for translators except for the ones who use footnotes. They are always trying to explain to the reader something which the author probably did not mean; since it's there, the reader has to put up with it. Translating is a very difficult job, not at all rewarding, and very badly paid. A good translation is always a re-creation in another language. That's why I have such great admiration for Gregory Rabassa. My books have been translated into twenty-one languages and Rabassa is the only translator who has never asked for something to be clarified so he can put a footnote in. I think that my work has been completely re-created in English. There are parts of the book which are very difficult to follow literally. The impression one gets is that the translator read the book and then rewrote it from his recollections. That's why I have such admiration for translators. They are intuitive rather than intellectual. Not only is what publishers pay them completely miserable, but they don't see their work as literary creation. There are some books I would have liked to translate into Spanish, but they would have involved as much work as writing my own books and I wouldn't have made enough money to eat.
INTERVIEWER
What would you have liked to translate?
GARCÍA MÁRQUEZ
All Malraux. I would have liked to translate Conrad, and Saint-Exupéry. When I'm reading I sometimes get the feeling that I would like to translate this book. Excluding the great masterpieces, I prefer reading a mediocre translation of a book than trying to get through it in the original language. I never feel comfortable reading in another language, because the only language I really feel inside is Spanish. However, I speak Italian and French, and I know English well enough to have poisoned myself with Time magazine every week for twenty years.
INTERVIEWER
Does Mexico seem like home to you now? Do you feel part of any larger community of writers?
GARCÍA MÁRQUEZ
In general, I'm not a friend of writers or artists just because they are writers or artists. I have many friends of different professions, amongst them writers and artists. In general terms, I feel that I'm a native of any country in Latin America but not elsewhere. Latin Americans feel that Spain is the only country in which we are treated well, but I personally don't feel as though I'm from there. In Latin America I don't have a sense of frontiers or borders. I'm conscious of the differences that exist from one country to another, but in my mind and heart it is all the same. Where I really feel at home is the Caribbean, whether it is the French, Dutch, or English Caribbean. I was always impressed that when I got on a plane in Barranquilla, a black lady with a blue dress would stamp my passport, and when I got off the plane in Jamaica, a black lady with a blue dress would stamp my passport, but in English. I don't believe that the language makes all that much difference. But anywhere else in the world, I feel like a foreigner, a feeling that robs me of a sense of security. It's a personal feeling, but I always have it when I travel. I have a minority conscience.
INTERVIEWER
Do you think that it's an important thing for Latin American writers to live in Europe for a while?
GARCÍA MÁRQUEZ
Perhaps to have a real perspective from outside. The book of short stories I'm thinking of writing is about Latin Americans going to Europe. I've been thinking about it for twenty years. If you could draw a final conclusion out of these short stories, it would be that Latin Americans hardly ever get to Europe, especially Mexicans, and certainly not to stay. All the Mexicans I've ever met in Europe always leave the following Wednesday.
INTERVIEWER
What effects do you think the Cuban Revolution has had on Latin American literature?
GARCÍA MÁRQUEZ
Up until now it has been negative. Many writers who think of themselves as being politically committed feel obligated to write stories not about what they want, but about what they think they should want. That makes for a certain type of calculated literature that doesn't have anything to do with experience or intuition. The main reason for this is that the cultural influence of Cuba on Latin America has been very much fought against. In Cuba itself, the process hasn't developed to the point where a new type of literature or art has been created. That is something that needs time. The great cultural importance of Cuba in Latin America has been to serve as a kind of bridge to transmit a type of literature which had existed in Latin America for many years. In a sense, the boom in Latin American literature in the United States has been caused by the Cuban Revolution. Every Latin American writer of that generation had been writing for twenty years, but the European and American publishers had very little interest in them. When the Cuban Revolution started there was suddenly a great interest about Cuba and Latin America. The revolution turned into an article of consumption. Latin America came into fashion. It was discovered that Latin American novels existed which were good enough to be translated and considered with all other world literature. What was really sad is that cultural colonialism is so bad in Latin America that it was impossible to convince the Latin Americans themselves that their own novels were good until people outside told them they were.
INTERVIEWER
Are there some lesser-known Latin American writers you especially admire?
GARCÍA MÁRQUEZ
I doubt there are any now. One of the best side effects of the boom in Latin American writing is that publishers are always on the lookout to make sure that they're not going to miss the new Cortázar. Unfortunately many young writers are more concerned with fame than with their own work. There's a French professor at the University of Toulouse who writes about Latin American literature; many young authors wrote to him telling him not to write so much about me because I didn't need it anymore and other people did. But what they forget is that when I was their age the critics weren't writing about me, but rather about Miguel Angel Asturias. The point I'm trying to make is that these young writers are wasting their time writing to critics rather than working on their own writing. It's much more important to write than to be written about. One thing that I think was very important about my literary career was that until I was forty years old, I never got one cent of author's royalties, though I'd had five books published.
INTERVIEWER
Do you think that fame or success coming too early in a writer's career is bad?
GARCÍA MÁRQUEZ
At any age it's bad. I would have liked for my books to have been recognized posthumously, at least in capitalist countries, where you turn into a kind of merchandise.
INTERVIEWER
Aside from your favorites, what do you read today?
GARCÍA MÁRQUEZ
I read the weirdest things. I was reading Muhammad Ali's memoirs the other day. Bram Stoker's Dracula is a great book, and one I probably would not have read many years ago because I would have thought it was a waste of time. But I never really get involved with a book unless it's recommended by somebody I trust. I don't read any more fiction. I read many memoirs and documents, even if they are forged documents. And I reread my favorites. The advantage of rereading is that you can open at any page and read the part that you really like. I've lost this sacred notion of reading only "literature." I will read anything. I try to keep up-to-date. I read almost all the really important magazines from all over the world every week. I've always been on the lookout for news since the habit of reading the Teletype machines. But after I've read all the serious and important newspapers from all over, my wife always comes around and tells me of news I hadn't heard. When I ask her where she read it, she will say that she read it in a magazine at the beauty parlor. So I read fashion magazines and all kinds of magazines for women and gossip magazines. And I learn many things that I could only learn from reading them. That keeps me very busy.
INTERVIEWER
Why do you think fame is so destructive for a writer?
GARCÍA MÁRQUEZ
Primarily because it invades your private life. It takes away from the time that you spend with friends, and the time that you can work. It tends to isolate you from the real world. A famous writer who wants to continue writing has to be constantly defending himself against fame. I don't really like to say this because it never sounds sincere, but I would really have liked for my books to have been published after my death, so I wouldn't have to go through all this business of fame and being a great writer. In my case, the only advantage in fame is that I have been able to give it a political use. Otherwise, it is quite uncomfortable. The problem is that you're famous for twenty-four hours a day and you can't say, "Okay, I won't be famous until tomorrow," or press a button and say, "I won't be famous here or now."
INTERVIEWER
Did you anticipate the extraordinary success of One Hundred Years of Solitude?
GARCÍA MÁRQUEZ
I knew that it would be a book that would please my friends more than my others had. But when my Spanish publisher told me he was going to print eight thousand copies I was stunned, because my other books had never sold more than seven hundred. I asked him why not start slowly, but he said he was convinced that it was a good book and that all eight thousand copies would be sold between May and December. Actually they were all sold within one week in Buenos Aires.
INTERVIEWER
Why do you think One Hundred Years of Solitude clicked so?
GARCÍA MÁRQUEZ
I don't have the faintest idea, because I'm a very bad critic of my own works. One of the most frequent explanations that I've heard is that it is a book about the private lives of the people of Latin America, a book that was written from the inside. That explanation surprises me because in my first attempt to write it the title of the book was going to be The House. I wanted the whole development of the novel to take place inside the house, and anything external would be just in terms of its impact on the house. I later abandoned the title The House, but once the book goes into the town of Macondo it never goes any further. Another explanation I've heard is that every reader can make of the characters in the book what he wants and make them his own. I don't want it to become a film, since the film viewer sees a face that he may not have imagined.
INTERVIEWER
Was there any interest in making it into a film?
GARCÍA MÁRQUEZ
Yes, my agent put it up for one million dollars to discourage offers and as they approximated that offer she raised it to around three million. But I have no interest in a film, and as long as I can prevent it from happening, it won't. I prefer that it remain a private relationship between the reader and the book.
INTERVIEWER
Do you think any books can be translated into films successfully?
GARCÍA MÁRQUEZ
I can't think of any one film that improved on a good novel, but I can think of many good films that came from very bad novels.
INTERVIEWER
Have you ever thought of making films yourself?
GARCÍA MÁRQUEZ
There was a time when I wanted to be a film director. I studied directing in Rome. I felt that cinema was a medium which had no limitations and in which everything was possible. I came to Mexico because I wanted to work in film, not as a director but as a screenplay writer. But there's a big limitation in cinema in that it's an industrial art, a whole industry. It's very difficult to express in cinema what you really want to say. I still think of it, but it now seems like a luxury which I would like to do with friends but without any hope of really expressing myself. So I've moved farther and farther away from the cinema. My relation with it is like that of a couple who can't live separated, but who can't live together either. Between having a film company or a journal, though, I'd choose a journal.
INTERVIEWER
How would you describe the book on Cuba that you're working on now?
GARCÍA MÁRQUEZ
Actually, the book is like a long newspaper article about what life in Cuban homes is like, how they have managed to survive the shortages. What has struck me during the many trips that I've made to Cuba in the last two years is that the blockade has created in Cuba a kind of "culture of necessity," a social situation in which people have to get along without certain things. The aspect that really interests me is how the blockade has contributed to changing the mentality of the people. We have a clash between an anticonsumer society and the most consumption-oriented society in the world. The book is now at a stage where after thinking that it would be just an easy, fairly short piece of journalism, it is now turning into a very long and complicated book. But that doesn't really matter, because all of my books have been like that. And besides, the book will prove with historical facts that the real world in the Caribbean is just as fantastic as in the stories of One Hundred Years of Solitude.
INTERVIEWER
Do you have any long-range ambitions or regrets as a writer?
GARCÍA MÁRQUEZ
I think my answer is the same as the one I gave you about fame. I was asked the other day if I would be interested in the Nobel Prize, but I think that for me it would be an absolute catastrophe. I would certainly be interested in deserving it, but to receive it would be terrible. It would just complicate even more the problems of fame. The only thing I really regret in life is not having a daughter.
INTERVIEWER
Are there any projects now underway you can discuss?
GARCÍA MÁRQUEZ
I'm absolutely convinced that I'm going to write the greatest book of my life, but I don't know which one it will be or when. When I feel something like this—which I have been feeling now for a while—I stay very quiet, so that if it passes by I can capture it.
Author photograph by Nancy Crampton.
Share on printPRINT | Share on twitterTWITTER | Share on facebookFACEBOOK | More Sharing ServicesMore |View a manuscript page
You might also enjoy
James Merrill, The Art of Poetry No. 31
E. B. White, The Art of the Essay No. 1
William F. Buckley Jr., The Art of Fiction No. 146
More On This Issue
Winter 1981
No. 82
Fiction
Julio Cortázar, Feuilletons, from A Certain Lucas
James Fetler, Watchmann's Cubes
Jamaica Kincaid, What Have I Been Doing Lately
Gordon Lish, How to Write a Poem
R. D. Pohl, Was That the Moon?
Ray Russell, A Note on the Type
Joy Williams, Making Friends
Interview
Carlos Fuentes, The Art of Fiction No. 68
Gabriel Garcia Marquez, The Art of Fiction No. 69
Poetry
Charles Baudelaire, Nineteen Poems (Richard Howard, trans.)
Rainer Maria Rilke, Ten Poems (Stephen Mitchell, trans.)
Art
Cindy Sherman, Untitled Film Stills