After the G7: The Strategic Implications of the Humanitarian Crisis in Afghanistan 
The urgent effort to evacuate US citizens and at-risk Afghans is only the front end of a longer-term, grave, and large-scale humanitarian crisis, as well as a direct challenge to US global credibility. Up to this point, the evacuation operations have been challenged on a variety of levels, including communications with potential evacuees, ensuring the safety of evacuees in getting to the airport, logistics, capacity, as well as security along the route to the Kabul airport.
Following today's G-7 meeting and President Biden's decision to maintain the August 31st withdrawal deadline, what are the next steps for the United States and allies? Which policies should be enacted to ensure a safe and swift evacuation? How must the United States and its allies and partners address the unfolding and long-term humanitarian crisis? Today's joint statement following the G-7 leaders meeting about this crisis stressed the need for a longer-term framework for dealing with the Taliban, and protecting global security and regional stability.
Join the Atlantic Council's Scowcroft Center for Strategy and Security, South Asia Center, and Rafik Hariri Center & Middle East programs for a conversation following up on the G-7 Leaders meeting about efforts to evacuate US citizens and allies as well as at-risk Afghans from Afghanistan amid a deteriorating security and humanitarian situation.
A panel discussion featuring:
Lord Mark Malloch-Brown
President
Open Society Foundations
General James E. Cartwright, USMC (Ret.)
Former Vice Chairman of the Joint Chiefs of Staff
Board Director
Atlantic Council
Ambassador Melanne Verveer
Executive Director of the Georgetown Institute for Women, Peace and Security
Georgetown University
Rina Amiri
Senior Fellow, Center for International Cooperation
New York University
M. Lyla Kohistany
Nonresident Senior Fellow 
Forward Defense, Scowcroft Center for Strategy and Security
Atlantic Council
Moderated by Vivian Salama
National Security Reporter
Wall Street Journal
Dear felipe,
We look forward to welcoming you shortly for The Fall of Afghanistan: What Next?, our subscriber-exclusive digital event. 
The webinar will start at 2:30pm BST (GMT+1) . To access the broadcast, please click the button below.
With expert speakers and leading FT journalists:
General David H. Petraeus
former Director
Central Intelligence Agency
Ajmal Ahmady
former Central Bank Governor
Afghanistan
Katrina Manson
US Foreign Policy and Defence Correspondent
Financial Times
Stephanie Findlay
South Asia correspondent
Financial Times
Moderated by 
Peter Spiegel
US Managing Editor
Financial Times
The geopolitical and humanitarian implications of the Taliban takeover
It took just 10 days after the withdrawal of US troops for the Taliban to take over Afghanistan, culminating in their lightning entry into Kabul and a humiliating indictment of the US campaign of the last 20 years.
While the Taliban themselves admitted surprise at the speed of their victory, they now have to rule as they prepare to proclaim a new Islamic Emirate of Afghanistan. Responding to allegations of a catastrophic failure of US intelligence, Antony Blinken, secretary of state, conceded only that US analysis of Afghan military weaknesses was misjudged.
As the 20th anniversary of the Afghan-hatched 9/11 attacks on the US approaches next month, the chaotic evacuation of the US embassy evoked comparisons with the fall of Saigon, although President Biden has stood by his domestically-led decision to withdraw, saying it has been vindicated by the speed of the Afghan government's collapse.
The image of desperate Afghans clinging to aircrafts taking off from Kabul airport have prompted calls for a global response to an expected exodus of refugees with the potential to turn into a humanitarian disaster.
Join the FT's in-depth panel as our journalists and other experts discuss what's next for Afghanistan following the return of the Taliban. They will examine what is in store for Afghans, in particular women and girls; how the Islamist group will rule; and what the geopolitical implications are for key powers and neighbours in both the west and east
TALKING POINTS
-How did the Taliban succeed in taking Afghanistan so quickly?
-How will they rule and how much of the country will they control? 
-Geopolitical implications: What will western allies do? How will China, Iran, Russia, Pakistan and India pursue their interests?
-Will Afghan territory once again become a haven for the sort of terror attacks that prompted the US invasion 20 years ago?
-Afghan exodus: What will the global response be and do countries involved in the conflict have a moral duty to accept refugees? 
-Will women and girls lose all the rights they regained in the past 20 years?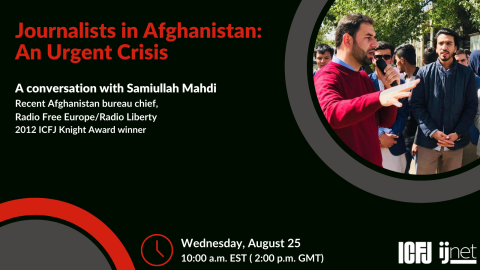 Hi Felipe,
This is a reminder that «Journalists in Afghanistan: An Urgent Crisis» will begin in 1 day on:
Date Time: Aug 25, 2021 10:00 AM Eastern Time (US and Canada)
As the Taliban has taken back Afghanistan with lightning speed, the country's independent journalists are facing dire consequences. Those who have worked with U.S. and European news media have a target on their backs and are desperately trying to leave. And those working for Afghan media — especially women — fear the coming crackdown on any independent reporting.
Join us Aug. 25 at 10 am EST for a discussion with Samiullah Mahdi, former ICFJ Knight International Journalism Award winner and recent Afghanistan bureau chief for Radio Free Europe/Radio Liberty. Mahdi left Afghanistan hours before the Taliban took control of Kabul. The moderator will be Patrick Butler, ICFJ's Vice President of Content and Community.