CPJ's Robert Mahoney identifies the 10 countries where press freedom suffered the most in 2012. They include Syria, the world's deadliest country for the press; Russia, where repressive laws took effect; Brazil, where journalist murders soared; and Ethiopia, where terror laws are used to silence the press. (Continue reading »)
En las ojeadas que el 2 de marzo de 2013 eché a twitter, me llamó la atención este twitt del Comité para la Protección de Periodistas (CPJ) de Nueva York sobre la detención del periodista  Yusuf Getachev, detenido desde hace ya 235 días por cubrir protestas de musulmanes etíopes en defensa de la libertad religiosa.
africamedia_cpj @africamedia_CPJ
Basta con dedicar unos minutos a los tuits de africamedia_cpj en dos o tres días para darse cuenta de l desafío que tienen los periodistas africanos. ¿Qué sabemos de ellos? ¿Qué publicamos en España sobre este asunto? ¿Cuándo se ha movilizado alguien en España en su defensa?
Hablamos, sí, de pascuas a ramos, de los conflictos olvidados en África, pero ¿qué pasa con los periodistas olvidados?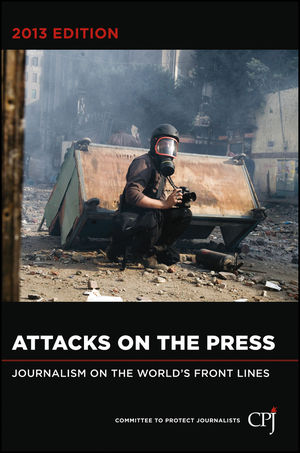 Antes de señalar a nadie, confieso mi mea culpa. En mi curso sobre información y conflictos en el Master de Política Internacional en la UCM, durante años apenas he dedicado un tema al periodismo en África y casi siempre dentro de un epígrafe más general, referido más a desastres naturales y tragedias que a las violaciones de la libertad de prensa y a la persecución de los periodistas propiamente.
Sin acabar de decidirme a escribir sobre ello y reflejar en un blog las reflexiones anteriores, entro en el Guardian y me encuentro con este artículo: African journalism is being stifled by a lack of resources. Lleva por subtítulo un texto bastante largo: A shortage of money and skills leaves local reporters struggling to compete with big western media outlets. Y lo firma Simon Allison for Good Governance Africa, part of the Guardian Africa network.
There is not a lot of money in African journalism. As an African journalist, I know this all too well. An example: I was in South Sudan in November, on a trip I was financing myself. Weeks in flea-ridden hostels culminated in a four-day stay at a refugee camp near the border with Sudan. I was the only reporter there and pleased with myself for getting a story that no one else had. Not so fast. On my last day there, a small plane descended unannounced on the tiny airstrip and disgorged four foreign correspondents in their khakis and combat boots. They represented two of the biggest and best-known international media outlets. They spent a total of two hours in the camp. One of them had filed his story even before he left.

As they hijacked my interviews, I chatted to their fixer who whispered to me that they had spent $8,000 to hire the plane for the morning. To me, this was an unimaginable sum: their morning cost more than four times my entire two weeks in South Sudan. And, of course, they missed the story. In four days I barely scratched the surface of what was going on in the camp, but in their two hours, they could not even get beyond official statements.

For aid workers and the camp's refugee leadership, this was a common complaint: journalists, invariably foreign, screeched in for a few hours and got the story wrong.

Local Zimbabweans often use radios to hear news coverage of elections. (Reuters/Emmanuel Chitate) CPJ

This echoes a common lament among African journalists, politicians, policymakers and civil society activists, which goes something like this: one of Africa's biggest problems is that it is not allowed to tell its own stories. The agenda for African news is decided in far-off western capitals – London, Paris, New York – and written by dashing foreign correspondents who do not understand the local complexities and base their narrative on sweeping, misleading generalisations. Sometimes the reports are wrong or distorted. Sometimes their depictions and analysis are borderline racist. (Sometimes, foreign reporting on Africa is excellent; but in general it is hit and miss.) The broader point remains that Africa is not setting its own news agenda.

The end result is that Africa continues to be defined by stereotypes: it is poor; it is conflict-ridden; it is starving and dangerous. It is the helpless continent, or – if those invariably white editors are in a good mood – it is «Africa rising», the positive generalisations just as sweeping as all the negative ones which came before.

The potential real-world impact of all this is obvious. Policy is determined, money is spent and decisions are made at all levels based on an outsider's view of Africa. If the image is wrong, then the policy will be too. And if the vision is formed by often clueless interlopers, then chances are that the representation is wrong. (continue reading…)
Related information in The Guardian: