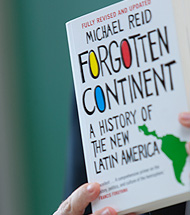 El editor senior en The Economist Michael Reid participó en la Latin America Summit del Grado en Relaciones Internacionales de la Universidad de Navarra, donde abordó la situación política y electoral que vive Brasil.
En la conferencia, 'Brasil y América Latina: la rebelión de las masas', explicó cuáles son las causas que han precipitado la victoria en la primera vuelta del candidato a la presidencia Jair Bolsonaro, cuya política supone una "ruptura con la anterior".
Michael Reid es autor de, entre otros, 'Forgotten Continent. A history of the New Latin America' y 'Brazil: The Troubled Rise of a Global Power' y ha trabajado desde 1990 en The Economist, donde fue editor para las Americas (1999-2013); corresponsal para Brasil y el Cono Sur con sede en São Paulo (1996-1999); y para México, América Central y el Caribe (1990-1993).
En la Latin America Summit el periodista y analista explicó los retos que enfrenta Brasil en temas de economía, política y sociedad, e hizo alusión a algunos de los problemas que sufre, como la corrupción, la violencia, el narcotráfico, "la situación fiscal insostenible" o la "hostilidad medioambiental".