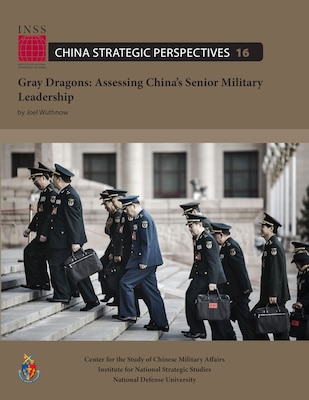 Joel Wuthnow
@jwuthnow
#Xi
Jinping commands the PLA, but who advises him on military matters? What kinds of officers sit atop the pyramid? How do their careers unfold? What leadership challenges would they face in a war? I address in a new
@NDU_EDU
monograph
ndupress.ndu.edu/Media/News/New
Thread 1/11 
FULL REPORT
: Gray Dragons: Assessing China's Senior Military Leadership
       This report analyzes more than 300 biographies of senior Chinese military officers from 2015 and 2021 to assess the composition, demographics, and career patterns of the People's Liberation Army (PLA) leadership. Key findings include the following points. 
The PLA is a conservative institution whose leaders waited their turn and achieved success in their services, and who have similar personal backgrounds.

Average senior PLA officers rose patiently through the ranks over the course of careers spanning more than four decades; there were few opportunities for "fast burners" to achieve quicker success. Central Military Committee (CMC) Chairman Xi Jinping has not skipped over a generation of people who had waited their turn to promote young Turks more familiar with modern conflict.

The surest paths to success were in senior service positions. Joint experience was not common—the PLA has not implemented its own version of the U.S. Goldwater- Nichols Department of Defense Reorganization Act of 1986 mandate that officers become joint duty qualified.

Senior officers were homogenous in terms of age, education, gender, and ethnicity. Xi has not looked to a broader pool of talent to fill the senior ranks.

Leadership selections protect the institutional equities of different interest groups within the PLA.

There is a close correlation between service representation at the apex of the PLA hierarchy and manpower share in the PLA. No service is punching above or below its weight in China's military leadership.
Related
Taiwan: dialogue, crisis or war?