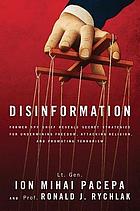 Readers will discover answers to many crucial questions of the modern era:
Why, during the last two generations, has so much of the Western world turned against its founding faith, Christianity?
Why have radical Islam, jihad and terrorism burst aflame after a long period of apparent quiescence?
Why is naked Marxism increasingly manifesting in America and its NATO allies?
What really happened to Russia after the Berlin Wall came down?
Like the solution to a giant jigsaw puzzle lacking one crucial piece, Disinformation authoritatively provides the missing dimension that makes the chaos of the modern world finally understandable.
By its very nature, a disinformation campaign can work only if the seemingly independent Western press accepts intentionally fabricated lies and presents them to the public as truth.
Thus, Pacepa and Rychlak also document how the U.S. «mainstream media's» enduring sympathy for all things liberal-left has made it vulnerable to–indeed, the prime carrier of–civilization-transforming campaigns of lying, defamation and historical revisionism that turn reality on its head.
Disinformation : former spy chief reveals secret strategies for undermining freedom, attacking religion, and promoting terrorism

Autor: Ion Mihai Pacepa; Ronald J Rychlak

Editorial: Washington, D.C. : WND Books, [2013]