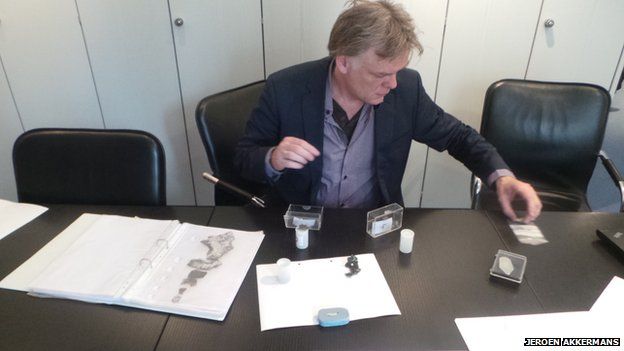 MH17 crash: My revealing fragments from east Ukraine
By Jeroen Akkermans, Dutch RTL News correspondent
April 16, 2015
When a journalist investigates a crime scene something is wrong. It is not his job. We leave the search for evidence in the hands of the police for a good reason.
But on 17 July 2014, Malaysia Airlines flight MH17 exploded over eastern Ukraine and the remains of 298 passengers and crew fell in a warzone with frontlines instead of police lines.
I visited the site several times and, after months of seeing evidence lying at the scene undisturbed, I decided to take some small fragments with me. At least three of them were later linked to a surface-to-air missile by forensic analysis and experts.
Men with guns
The victims came from several countries; 196 were Dutch citizens and my country was in shock.
The wreckage of MH17 was spread over more than 35 sq km (13.5 sq miles) and, when I first arrived, flags had already been put in place locating where the body parts were.
There was no order, just men with guns. But nobody stopped us entering and filming what was dubbed «the biggest crime scene in the world».
Everywhere lay desolate parts. It was a scene of war; death; hell.
I took pictures of serial numbers, holes and craters in an attempt to understand the magnitude of it all.
Russian-backed separatists had been fighting the Ukrainian army for control of the MH17-zone and the entrance to the area was obstructed by roadblocks manned by armed rebels.
Investigators from the Netherlands arrived four days later.
By the time of their arrival, Ukrainian firemen had retrieved most of the bodies and body parts from the burning sun, put them in plastic bags and on to a waiting train with refrigerated carriages.
Soon the Dutch investigators were pulled out. Dutch authorities considered the warzone too dangerous for collecting evidence.
Nevertheless the Netherlands was asked to take over the investigation from Ukraine.
Initially the Dutch saw it as a logical and necessary step.
When lines of coffins were flown back and driven by hearse to an army barracks, our small country was in tears.
It felt as if everyone knew a passenger on board MH17.
The Dutch expected nothing less than swift conclusions from their investigators. But the investigators' hands were tied by commitments to Ukraine – even though its army had not been ruled out as a suspect – and by a formal refusal to negotiate with separatists.