Mi primer impulso fue respetar el título del artículo de Le Monde que me animó a incluir este post en mi blog el 4 de agosto de 2013: Surveillance : les autres agences américaines jalousent la NSA.
Mientras me dejaba llevar por los excelentes trabajos publicados por el diario francés, recordé una serie de 2010 del Washington Post  que me hizo cambiar de idea. El lado oscuro (en realidad no tan secreto) de la fuerza refleja mucho mejor el contenido de este montaje, combinado o agregado (post en el inglés importado), con el que trato sólo de ayudar, con las investigaciones de Le Monde, del Washington Post, del Guardian y alguna aportación del New YorkTimes, a entender un poco mejor el rocambolesco mundo de los servicios secretos estadounidenses.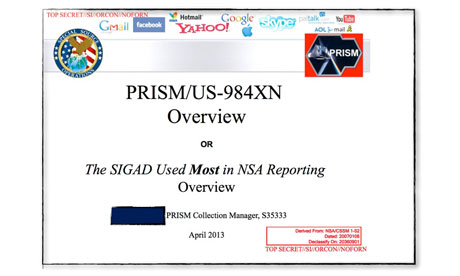 A cada uno su merecido. Seguramente nada de lo que esta entrada recoge -la excelente serie de Le Monde y el incomparable proyecto del Washington Post- sería posible sin el interés inusitado recibido por la exclusiva firmada el 7 de junio en The Guardian por Glenn Greenwald and Ewen MacAskill.
The National Security Agency has obtained direct access to the systems of Google, Facebook, Apple and other US internet giants, according to a top secret document obtained by the Guardian.

The NSA access is part of a previously undisclosed program called Prism, which allows officials to collect material including search history, the content of emails, file transfers and live chats, the document says.

The Guardian has verified the authenticity of the document, a 41-slide PowerPoint presentation – classified as top secret with no distribution to foreign allies – which was apparently used to train intelligence operatives on the capabilities of the program. The document claims «collection directly from the servers» of major US service providers.

Although the presentation claims the program is run with the assistance of the companies, all those who responded to a Guardian request for comment on Thursday denied knowledge of any such program… read more 
Tras la filtración de los documentos secretos por Snowden ha habido una verdadera avalancha de informaciones sobre los datos que más interesan a la NSA en su trabajo diario -las llamadas telefónicas y contenidos que circulan por internet- y el proceso burocrático y legal que sigue para hacerse con ellos. Jonathan Stray, en ProPublica, completaba el 5 de agosto un informe publicado incialmente el 27 de junio en el que respondía a muchas de las principales interrogantes.
What information does the NSA collect and how?

We don't know all of the different types of information the NSA collects, but several secret collection programs have been revealed:

A record of most calls made in the U.S., including the telephone number of the phones making and receiving the call, and how long the call lasted. This information is known as "metadata" and doesn't include a recording of the actual call (but see below). This program was revealed through a leaked secret court order instructing Verizon to turn over all such information on a daily basis. Other phone companies, including AT&T and Sprint, also reportedly give their records to the NSA on a continual basis. All together, this is several billion calls per day.

Email, Facebook posts and instant messages for an unknown number of people, via PRISM, which involves the cooperation of at least nine different technology companies. Google, Facebook, Yahoo and others have denied that the NSA has "direct access" to their servers, saying they only release user information in response to a court order. Facebook has revealed that, in the last six months of 2012, they handed over the private data of between 18,000 and 19,000 users to law enforcement of all types — including local police and federal agencies, such as the FBI, Federal Marshals and the NSA…

read more and get the answers to the following relevant questions:

Massive amounts of raw Internet traffic

The contents of an unknown number of phone calls

Does the NSA record everything about everyone, all the time?

What does phone call metadata information reveal, if it doesn't include the content of the calls?

Does the NSA need an individualized warrant to listen to my calls or look at my emails?

Is all of this legal?

How long can the NSA keep information on Americans?

Does the NSA do anything to protect Americans' privacy?

What if I'm not an American?
En su revista del primer fin de semana de agosto, el New York Times publicaba un artículo de David Sanger en el que respondía a una de las preguntas más elementales y, tal vez por ello, más importantes que se vienen haciendo los responsables de los servicios secretos de todos los países, sobre todo de los EE.UU., y muchos observadores y estudiosos de ellos: ¿qué es realmente secreto en el siglo XXI?
A Washington Riddle: What Is 'Top Secret'?

Published: August 3, 2013

WASHINGTON — LESS than 24 hours after Pfc. Bradley Manning was convicted last week of handing off 250,000 State Department cables and defense documents to WikiLeaks, The Guardian published on its Web site the latest classified material from the leaker of the moment, Edward J. Snowden. That installment included the National Security Agency's playbook for XKeyscore, a powerful surveillance program enabling the agency's analysts to monitor and trace Internet searches around the globe.

The cases have provided lots of cable-television drama, from Private Manning's court-martial to Moscow's provocative granting of temporary asylum to America's best-known fugitive. But the deeper lessons lie in how the government is stumbling in its efforts to protect its secrets in the Internet age. Washington has still not heeded two decades of warnings that the best way to protect America's biggest secrets is to have far fewer of them and to recognize that much of what is stamped "secret" today is widely available on the Internet.

There are certainly some secrets the government needs to protect, but many of the most important clues about revolutions, nuclear transfers and new military sites can be found online, in open chat rooms and commercial satellite photos.

In the early days of the cold war, secrecy seemed simpler. Classified documents were almost all on paper, making it far easier to limit access to officials with top clearances. There were not yet 16 intelligence agencies, much less the post-9/11 directives for them to share information they had once kept "stovepiped," so that others could not get to it.

It was this pooling of information that allowed Private Manning, sitting at a remote outpost in Iraq, to download cables from the American Embassy in Beijing, and let Mr. Snowden, at a small base in Hawaii, to download — without setting off alarms — documents about intelligence collection operations and secret court decisions that had nothing to do with his job… read more
Cinco días después, el 8 de agosto, Charlie Savage aclaraba basante bien lo que hace realmente la NSA, los contenidos que busca en la riada informativa en que navegamos o, mejor, somos arrastrados y la defensa de los responsables de la agencia de que todo lo que hacen es perfectamente legal. De serlo, como parece confirmado en los EE.UU., la situación es mucho más grave, pues significa que se están permitiendo violaciones masivas, flagrantes y permantes de nuestra privacidad y de algunos de nuestros derechos fundamentales.
Broader Sifting of Data Abroad Is Seen by N.S.A.

Published: August 8, 2013

WASHINGTON — The National Security Agency is searching the contents of vast amounts of Americans' e-mail and text communications into and out of the country, hunting for people who mention information about foreigners under surveillance, according to intelligence officials.

The N.S.A. is not just intercepting the communications of Americans who are in direct contact with foreigners targeted overseas, a practice that government officials have openly acknowledged. It is also casting a far wider net for people who cite information linked to those foreigners, like a little used e-mail address, according to a senior intelligence official…….

Government officials say the cross-border surveillance was authorized by a 2008 law, the FISA Amendments Act, in which Congress approved eavesdropping on domestic soil without warrants as long as the "target" was a noncitizen abroad. Voice communications are not included in that surveillance, the senior official said.

Asked to comment, Judith A. Emmel, an N.S.A. spokeswoman, did not directly address surveillance of cross-border communications. But she said the agency's activities were lawful and intended to gather intelligence not about Americans but about "foreign powers and their agents, foreign organizations, foreign persons or international terrorists."

"In carrying out its signals intelligence mission, N.S.A. collects only what it is explicitly authorized to collect," she said. "Moreover, the agency's activities are deployed only in response to requirements for information to protect the country and its interests."

Hints of the surveillance appeared in a set of rules, leaked by Mr. Snowden, for how the N.S.A. may carry out the 2008 FISA law. One paragraph mentions that the agency "seeks to acquire communications about the target that are not to or from the target." The pages were posted online by the newspaper The Guardian on June 20, but the telltale paragraph, the only rule marked "Top Secret" amid 18 pages of restrictions, went largely overlooked amid other disclosures… read more
Durante decenios se informó del espionaje estadounidense como si sólo existiera la Central Intelligence Agency (CIA).
El gran Juan María San Miguel Querejeta -sus tertulias con Gonzalo Torrente Ballester en el rincón de internacional de San Roque 7, a las que con frecuencia se unía Rafael Conte para pinchar, fueron mi mejor clase de literatura-, jefe de internacional de Informaciones en los años más brillantes del diario (1970-1977), impuso el término «espionaje» como traducción obligada de «intelligence» en la sección y no podía evitar una sonrisa socarrona cada vez que, en algún teletipo, se citaba al Ministerio de Inteligencia (por Educación) de Venezuela. «No denigremos la verdadera inteligencia», aconsejaba. Es un consejo que asimilé como una obligación.
Desde que Edward Snowden se fugó de los EE.UU. con gran cantidad de información sobre la complicidad entre los principales departamentos de seguridad y algunos de los servidores y redes más influyentes del mundo, da la impresión de que sólo existe la National Security Agtency (NSA).
El pasado 11 de mayo, Paul Szoldra publicaba en Business Insider una introducción simple que ayuda a entender el laberinto de las 17 agencias de espionaje estadounidenses.
The U.S. intelligence community is vast, composed of 17 distinct organizations each operating under its own shroud of secrecy.

Oversight of these agencies generally falls to the Department of Defense or Congress, leaving the average citizen with precious little knowledge of how they operate. Funded by largely classified budgets, it's difficult to assess how much the U.S. annually spends on these clandestine operations, but one 2012 estimate pegs the cost at about $75 billion.

The following slides highlight the expansive reach of the U.S. intelligence community… read more
Si tuviera que recomendar un sólo trabajo en español sobre los servicios secretos estadounidense, recomendaría la tesis doctoral de Soledad Segoviano, «La acción encubierta como instrumento de la política exterior norteamericana» (1997), disponible en la biblioteca de la Facultad de Ciencias de la Información de la UCM.
Media treatment of the whistleblower Ed Snowden and the journalist who brought his revelations to light (29-6-2013)
En su seguimiento del escándalo Snowden, que finalmente ha recibido asilo político en Rusia por, al menos por un año, el diario francés Le Monde ha sobresalido por su puntillosa información. El 4 de agosto de 2013 se hacía eco de esa nefasta tendencia de los observadores a perder de vista el bosque cuando alguna planta o algún pájaro exótico o raro atraen su atención.
Pour beaucoup, le système de surveillance des communications mis au point par l'agence de sécurité nationale américaine (NSA) et rendu public par l'ancien consultant Edward Snowden va beaucoup trop loin par rapport aux objectifs qu'il est sensé servir. Pour nombre de fonctionnaires du renseignement américain, au contraire, le recours à l'espionnage est beaucoup trop restreint, comme l'explique le New York Times.

Selon le quotidien, un débat virulent fait rage depuis plusieurs années au sein de la communauté du renseignement autour de l'accès aux données collectées par la NSA, notamment par l'intermédiaire du programme Prism. Plusieurs agences fédérales, spécialisées dans la lutte contre le trafic de drogue, les cyberattaques ou la propriété intellecuelle, peinent à utiliser les outils d'espionnage de l'agence de sécurité nationale et à accéder à ses données, conservées jalousement… continuer à lire
Lire aussi
Prism, Snowden, surveillance de la NSA : 6 questions pour tout comprendre
L'outil qui permet à la NSA d'examiner «quasiment tout ce que fait un individu sur Internet»
XKeyscore: NSA tool collects 'nearly everything a user does on the internet'
Tous les articles publiés dans Le Monde sur l'affaire
La serie de Dana Priest y William Arkin -a  quien Mariano Aguirre introdujo en España hace muchos años, cuando Mariano estaba al cargo del Centro de Investigación para la Paz (CIP)- sobre los servicios de espionaje estadounidenses es uno de los proyectos más completos sobre el tema.
A hidden world, growing beyond control
The top-secret world the government created in response to the terrorist attacks of Sept. 11, 2001, has become so large, so unwieldy and so secretive that no one knows how much money it costs, how many people it employs, how many programs exist within it or exactly how many agencies do the same work.
These are some of the findings of a two-year investigation by The Washington Post that discovered what amounts to an alternative geography of the United States, a Top Secret America hidden from public view and lacking in thorough oversight. After nine years of unprecedented spending and growth, the result is that the system put in place to keep the United States safe is so massive that its effectiveness is impossible to determine.
The investigation's other findings include:

* Some 1,271 government organizations and 1,931 private companies work on programs related to counterterrorism, homeland security and intelligence in about 10,000 locations across the United States.

* An estimated 854,000 people, nearly 1.5 times as many people as live in Washington, D.C., hold top-secret security clearances.

* In Washington and the surrounding area, 33 building complexes for top-secret intelligence work are under construction or have been built since September 2001. Together they occupy the equivalent of almost three Pentagons or 22 U.S. Capitol buildings – about 17 million square feet of space.

* Many security and intelligence agencies do the same work, creating redundancy and waste. For example, 51 federal organizations and military commands, operating in 15 U.S. cities, track the flow of money to and from terrorist networks.

* Analysts who make sense of documents and conversations obtained by foreign and domestic spying share their judgment by publishing 50,000 intelligence reports each year – a volume so large that many are routinely ignored… read more 
Como colofón de este viaje virtual y como agradecimiento al excelente trabajo semanal de Al Jazeera sobre información y conflictos desde el programa Listening Post -que pronto barrió del mapa al International Correspondent de la CNN, lo único que teníamos en la televisión global durante muchos años-, recojo su último reportaje sobre el Poder (estadounidense en este caso) y los medios.
Edward Snowden – Shooting the messenger?

Before Edward Snowden blew the whistle on the NSA's extensive surveillance programmes on American citizens, he travelled to Hong Kong to escape the reach of the United States' justice system.

Perhaps he was mindful of the fate of Bradley Manning, who faces life in prison for releasing thousands of classified documents to Wikileaks. But while Snowden may have outrun the long arm of the law, he could not avoid trial by media.

Snowden has been described as a «weasel», a «narcissist» and a «punk» – not by US politicians or officials but by the journalists and newscasters leading the debate over his actions. And the discussion in the mainstream media seems more focused on Snowden's pole-dancing girlfriend and high school record than on one of the most comprehensive telephone and online surveillance programmes in human history.

It raises the question: Why focus on the character of the leaker and not the content of the leak? Is the media once again, shooting the messenger?

This program's  News Divide takes US journalism to task over its treatment of Edward Snowden and those who dare to leak government secrets to the press. AJE interviewed former whistleblower Thomas Drake, who revealed classified information on NSA surveillance in 2010; Jesselyn Radack, from the Government Accountability Project; and reporters Hamilton Nolan of Gawker; and Dana Priest from the Washington Post. (Published by Al Jazeera English. June, 22, 2013).
 Como colofón, para rebajar el tremendismo o la trascendencia que casi todos damos a los asuntos de espionaje, elijo el siguiente dibujo de Tom Tomorrow, publicado por The Nation el 6 de agosto de 2013,  y el tuit que nos alertó de su existencia.  Gracias a los dos.