De los numerosos resúmenes del año publicados, dentro y fuera de España, elijo, como el más completo, el de la agencia Reuters. En cuanto lo vi, lo destaqué en el siguiente tuit:
The Best in 2012 @reuters: News, Photos, In Depth Reports, Year in 60 seconds, Videos reuters.com/subjects/2012-…

— Felipe Sahagún (@sahagunfelipe) 24 de diciembre de 2012
Entre los resúmenes académicos, el más completo quizás sea el del Council on Foreign Relations Issue Guide: The World in 2012 and 2013, subdividido, a su vez, en veinte categorías, que incluye los principales desafíos internacionales del año que termina y del nuevo.
Dado que el desafío más importante sigue siendo, cinco años después de iniciada la crisis, el económico, destacamos, en segundo lugar, el análisis global del semanario The Economist, 2012 in charts, the long road to recovery: «FIVE years on from the start of the financial crisis, the global economy is enduring a feeble convalescence. The euro zone's debt crisis became less acute in 2012, thanks largely to the promise by Mario Draghi, the European Central Bank's president, to do "whatever it takes" to save the single currency. Bond yields in peripheral economies declined (chart 1). But Europe's chronic problems worsened: its financial system continued to fragment (chart 2) and the euro-area economy shrank».
Los números a veces confunden más que aclaran, pero en el mundo global, acelerado y omnipresente en el que vivimos difícilmente podríamos sobrevivir sin ellos. Este balance del Financial Times, 2012 by numbers,  a partir de los números más importantes del año, es revelador.
«The Year in 60 seconds«, incluído en el resumen de Reuter, tuvo un gran impacto en las redes.
http://www.youtube.com/watch?v=X6rg9YfMjIU?feature=player_detailpage&w=640&h=360
La ONU  distribuye cada año un resumen de unos 10 minutos sobre las actividades más importantes de la organización en los doce meses anteriores. Este es el Resumen de 2012. Aquí, el texto del guión del Resumen
Dos huelgas generales, cinco citas electorales, EREs, recortes y desahucios cierran, con cinco millones de parados, uno de los años más negros de nuestra Historia reciente. Así resumía El Mundo su especial de 2012:
The global financial crisis and austerity issues dominate the news as well as the top viewed terms of 2012 in FT Lexicon. As fears of a triple-dip loom in the UK, it may come as no surprise that the term recession is number two in the glossary site of FT.com.

Under the headline The year of the fine, The Economist's financial editor chose to reflect, as the main story on finance in 2012, on a scandal that rocked the City of London and reverberated around the world.
Rob Gifford analizaba para la revista el año financiero en China, caracterizado por la firme censura, pero, a la vez, el río imparable de análisis y comentarios sobre los escándalos de corrupción y todo lo demás.
El 25 de diciembre de 2012 PBS Newshour publicaba un balance de los resúmenes del año en las redes sociales con el título «2012 Year in Review: The Year of You«, firmado por Hari Sreenivasan. Empezaba así:
«It used to be that major institutions were the only arbiters of Year in Reviews. Whether it was broadcast networks or international newspapers of record, a small group of people assembled what they thought were the most momentous occasions of the year».
Entre los resúmenes que recogía, destaca el  2012 Year Review of Google.
El New York Times resumía 2012 en las siguientes imágenes bajo el título genérico «2012 in Images«.
Siempre he dicho que, para iniciarse y madurar en el conocimiento de la política exterior de los EE.UU. y de las relaciones internacionales, el seguimiento atento de las revistas Foreign Policy y Foreign Affairs es un buen punto de partida. La primera ofrecía el 27 de diciembre la siguiente selección de los que, para el medio, fueron sus mejores artículos o textos más interesantes en 2012.
Bajo el título «FP's Most Popular Articles of 2012«, los responsables de la selección escribían: «From true spy stories to the sex lives of ayatollahs, here's what you wanted to read this year». FP elige también cada año a los, para la revista, «los cien mejores pensadores». El lector puede encontrar el original en la revista, pero me parece más interesante la crítica publicada por Belén Fernández en Al Yazeera de algunos de los nombres incluidos en la prestigiosa lista.
No hay medio importane que se precie que no ofrezca, cada fin de año, su selección de las mejores fotos del año que termina. Bajo el título «Some of the Best (and Oddest) Photos of 2012«, PBS no sólo ofreció las mejores, sino también las más curiosas o sorprendentes. Algunas, muy pocas, coincidieron con «The Memorable World Moments» del año.
La competencia, desde Europa, es cada día más fuerte. Veamos, como ejemplo, las mejores fotos de 2012 de Der Spiegel: como ejemplo, su número 1: Merkel y sus pajaritos.
Y la número 2: El aterrizaje de la Luna. El Banco Mundial, desde una perspectiva completamente diferente, publicó también su balance del año en fotografías.
From pop culture to political campaigns, images helped define 2012. Heritage embarked on a campaign of its own to communicate our message using these shareable photos and graphics. Here are 10 of the most popular.
 Desde su nacimiento, en noviembre de 2006, pocas cadenas internacionales han hecho mejor trabajo que Al Yazeera (@ajenglish). El resumen de 2012, recuperando algunos de sus mejores reportajes es, por ello, una referencia obligada para equilibrar los balances hechos desde el mirador occidental. Entre ellos destacan Irán, Dereechos humanos, Birmania, la muerte de Arafat. Social Media, Medio Ambiente, Siria, Mali, Al Qaeda y algunos de los mejores trabajos del espacio «Reporter's Notebook».
Entre los textos que acompañan el especial fin de año de AY recojo «Weighing 2012 predictions«, de Barnaby Phillips, echando una ojeada a las predicciones de un año antes.
El Jerusalem Post publicaba en su edición digital dos resúmenes de 2012: «The blog down: year in review«, de Lidar Gravé-Lazi,  y «A Year in review: JPost's Top 10s of everything», espacio que recoge los temas principales. Destacaría uno: «US-Israel relations: Top Moments of 2012«, firmado pro Michael Wilner.
«Hot button topics that seized readers' attention in 2012 included the Iranian threat, the Palestinian UN bid, and Operation Pillar of Defense», escribía el primero tras destacar, mediante enlaces los blogs más destacados del año en el periódico.
«The year opened with Prime Minister Binyamin Netanyahu and US President Barack Obama publicly haggling over how much time remained to stop Iran from becoming a nuclear-capable state», escribe el segundo. «Indeed, even during Operation Pillar of Defense in November, the White House showed minimal interest in restarting peace negotiations between Israel and the Palestinians».
En la categoría de «the most influential international story of 2012«, el periódico israelí redujo la lista a cinco: Bulgaria bus bombing, hurricane Sandy, US elections, Newtown massacre, London Olympic Games.
The Diplomat, publicación especializada en la región Asia-Pacífico, publicaba el 1 de enero de 2013 un balance del año anterior en la zona ASEAN bajo el título ASEAN's Year in Review. El rsumen se puede resumir en las siguientes líneas:
«Beijing's actions in the South China Sea and claims over the Spratly and Parcel Islands elevated the status of the 10-member Association of South East Asian Nations (ASEAN) on the global diplomatic stage. Against this backdrop the United States continued implementing its «rebalance» to Southeast Asia, raising the diplomatic stakes in the confrontation, much to China's irritation».
El New York Times, aparte de sus balances del año anterior desde muy diferentes perspectivas, ofreció una selección de los, en su opinión, doce mejores trabajos del año, en orden cronológico de publicación, bajo el epígrafe «12 Foreign Stories From 2012 Worth Revisiting«.
Para los medios latinoamericanos las principales noticias de 2012 fueron, por este orden, el comienzo de negociaciones de paz entre las FARC y el Gobierno colombianos y las elecciones en México y Venezuela, condicionadas estas y sus coletazos por la enfermedad de Hugo Chávez, que a finales de año se veía obligado a volve a La Habana para someterse a una cuarta intervención quirúrgica. Este es el análisis de El Comercio.pe  (Perú).
En «India: the Year that Was«, el New York times resumía en fotografías la situación de la India en 2012, tal como se había quedado refleajada en el diario. La primera foto expresaba el duelo nacional por la estudiante violada y arrojada desde un autobús en diciembre, que fallecía pocos días después.
Con el título «2012: The year in viral videos«, The Guardian  presentaba, como los más populares del año, entre otros, Olympic madness; Nick Clegg's musical apology; Prince Charles's weatherman audition; and Felix Baumgartner's jump into history. Elsewhere Boris Johnson gets caught on a zipwire; Sacha Baron-Cohen spills Kim Jong-il; Jeremy Hunt loses the end of his bell; Joey Barton auditions for 'Allo 'Allo; and everyone else channels Gangnam Style.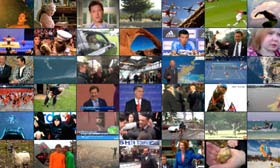 Otros
momentos para no olvidar,
en fotos y en vídeos, los recogía la BBC. En ellos incluía, como única representación española el Cristo de Cecilia Giménez.
El Washington Post, por medio de Max Fisher, nos ofreció también The year's 25 most dramatic moments en fotos. La justificación de dicha selección se abría con el siguiente párrafo:
The past year has been a big one for world news. There were transformative political movements bringing democracy to Burma and neo-Nazism to Greece, there was tumultuous violence in Israel-Palestine and Mali, moments of martyrdom near a South African mine and in a Russian courtroom, heroism personified in the first Saudi women at the Olympics and in a blind Chinese dissident's flight to safety, devastation in a Nigerian plane crash and in the shelling of an ancient Syrian city, and many more events, large and small, that could resonate for years. Here are some of those moments, captured in 25 photos.
Encabezaba la lista esta foto del primer día de campaña de Aung San Suu Kyi en febrero para las primeras elecciones libres de su país tras decenios de dictadura.
Las principales organizaciones humanitarias aprovechan las redes sociales para dar a conocer su aportación al desarrollo. UNDP, una de las más importantes de la ONU, presentaba así el balance de su trabajo en el año:
2012 has seen major global events and debates around development, where UNDP has been at the forefront of reaching out to people.  That is happening with the national and thematic dialogues we are facilitating on the post-2015 development agenda, as it also did with Rio+20 where we launched a digital platform to ensure that people's voices could be heard about the future we want.
STARS AND STRIPES, una de las publicaciones militares más influyentes en los EE.UU., abría así su especial Year in Review 2012: 
There were significant setbacks as soldiers in Afghanistan transitioned from fighting to mentoring. A mass murder of Afghan civilians and some cultural missteps hindered NATO's efforts to win hearts and minds in the 11th year of America's longest war, while incidents of Afghan police and soldiers murdering their American mentors spiked. Some nagging problems persisted more broadly in the military, as well: Navy commanders were relieved at an alarming pace while bad behavior among troops in Japan resulted in curfews and liberty restrictions. Not among the problems, however, was the acceptance of gays serving openly, which despite dire forecasts by opponents happened without major incidents. As a new year begins, the military's toughest foe might well be dwindling budgets.
Cada año, en su número de diciembre, Current History, citada más arriba por su prestigioso Global Report anual, cierra la edición con una selección de datos más o menos interesantes bajo el epígrafe World Statistics  del año que termina.