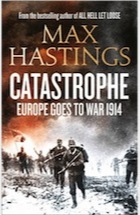 Catastrophe by Max Hastings; 100 Days to Victory by Saul David; Meeting the Enemy by Richard van Emden – review
These days, anniversaries come early. The centenary of the outbreak of the first world war is still a year off, but already we are knee-deep in books on the subject. So far they have come in three main varieties: lively portraits of the world avant le déluge by Florian Illies and Charles Emerson; new interpretations of how the disaster came about by Margaret MacMillan and Christopher Clark; and military narratives repackaged for a younger generation of readers. Max Hastings's Catastrophe goes one better, offering both the diplomatic build-up and an account of the first five months of the war.
It's hardly surprising that historians keep returning to the war's origins. A century after the Serbian nationalist Gavrilo Princip assassinated the Austro-Hungarian Archduke Franz Ferdinand and his wife Sophie near the Latin Bridge in Sarajevo on 28 June 1914, we still don't really know why that single act of terrorism plunged Europe into a war that cost the lives of more than 15 million people and toppled four empires. Of course, the basic narrative has long been agreed. Austria, with the backing of her German ally, issued an ultimatum to Serbia; Russia came to the support of her little Slav neighbour; France was allied to Russia and Britain eventually joined in, after Germany invaded Belgium. But much about the motives, intentions and actions of the central players remains unclear.
For many years the general view was that «we were all guilty» – that events and military timetables took over – but in the 1960s the German historian Fritz Fischer found archival evidence that the Kaiser's Germany was determined to go to war in 1914, before Russia could modernise her army; and had manipulated events (and her Austro-Hungarian ally) to that end; only then to discover that Britain, instead of remaining neutral, was coming in on the other side. This quickly became the consensus view… MORE
A century on from the first world war, the old narratives feel long gone
Ian Jack: There is no longer any danger that marking the centenary will lead to blinkered patriotism; the popular narrative of mud, useless slaughter and poetry triumphed long ago
Who will win the first world war this time round?
Anti-war activists battle to get their voices heard in WW1 centenary events
MY FAVOURITES
PARIS 1919: six months that changed the world. By Margaret MacMillan (Richard Holbrooke's Foreward) Paperback Edition RANDOM HOUSE 2003.
From Publishers Weekly
A joke circulating in Paris early in 1919 held that the peacemaking Council of Four, representing Britain, France, the U.S. and Italy, was busy preparing a «just and lasting war.» Six months of parleying concluded on June 28 with Germany's coerced agreement to a treaty no Allied statesman had fully read, according to MacMillan, a history professor at the University of Toronto, in this vivid account. Although President Wilson had insisted on a League of Nations, even his own Senate would vote the league down and refuse the treaty. As a rush to make expedient settlements replaced initial negotiating inertia, appeals by many nationalities for Wilsonian self-determination would be overwhelmed by rhetoric justifying national avarice. The Italians, who hadn't won a battle, and the French, who'd been saved from catastrophe, were the greediest, says MacMillan; the Japanese plucked Pacific islands that had been German and a colony in China known for German beer. The austere and unlikable Wilson got nothing; returning home, he suffered a debilitating stroke. The council's other members horse-traded for spoils, as did Greece, Poland and the new Yugoslavia. There was, Wilson declared, «disgust with the old order of things,» but in most decisions the old order in fact prevailed, and corrosive problems, like Bolshevism, were shelved. Hitler would blame Versailles for more ills than it created, but the signatories often could not enforce their writ. MacMillan's lucid prose brings her participants to colorful and quotable life, and the grand sweep of her narrative encompasses all the continents the peacemakers vainly carved up. 16 pages of photos, maps.
Copyright 2002 Cahners Business Information, Inc. –This text refers to an out of print or unavailable edition of this title
From Library Journal
In an ambitious narrative, MacMillan (history, University of Toronto) seeks to recover the original intent, constraints, and goals of the diplomats who sat down to hammer out a peace treaty in the aftermath of the Great War. In particular, she focuses on the «Big Three» Wilson (United States), Lloyd George (Great Britain), and Clemenceau (France) who dominated the critical first six months of the Paris Peace Conference. Viewing events through such a narrow lens can reduce diplomacy to the parochial concerns of individuals.
But instead of falling into this trap, MacMillan uses the Big Three as a starting point for analyzing the agendas of the multitude of individuals who came to Versailles to achieve their largely nationalist aspirations. Following her analysis of the forces at work in Europe, MacMillan takes the reader on a tour de force of the postwar battlefields of Asia and the Middle East. Of particular interest is her sympathy for those who tried to make the postwar world more peaceful. Although their lofty ambitions fell prey to the passions of nationalism, this should not detract from their efforts. This book will help rehabilitate the peacemakers of 1919 and is recommended for all libraries. Frederic Krome, Jacob Rader Marcus Ctr. of the American Jewish Archives, Cincinnati.
Paul Baumer enlisted with his classmates in the German army of World War I. Youthful, enthusiastic, they become soldiers. But despite what they have learned, they break into pieces under the first bombardment in the trenches. And as horrible war plods on year after year, Paul holds fast to a single vow: to fight against the principles of hate that meaninglessly pits young men of the same generation but different uniforms against each other–if only he can come out of the war alive.

«The world has a great writer in Erich Maria Remarque. He is a craftsman of unquestionably first trank, a man who can bend language to his will. Whether he writes of men or of inanimate nature, his touch is sensitive, firm, and sure.»
THE NEW YORK TIMES BOOK REVIEW
Les armes nouvelles de la Première guerre mondiale

Avions de combat, chars, sous-marins, artillerie: les nations en guerre se sont livrées de 1914 à 1918 une farouche course à l'innovation technologique pour développer les armes les plus meurtrières, à l'image des terribles gaz de combat qui symbolisent à jamais le conflit.

Des «orages d'acier». L'écrivain allemand Ernst Jünger a exprimé au lendemain de la guerre ce que fut le déluge d'obus qui s'est abattu pendant quatre ans sur les combattants, notamment sur le front occidental.

Dès les premières semaines de la guerre, les bombardements massifs provoquent des pertes humaines considérables, de même que les mitrailleuses qui dressent des murs de balles contre les assaillants. Les deux camps développent rapidement une artillerie lourde d'une puissance nouvelle.

Très vite pourtant, les soldats s'enterrent pour se protéger et il faut trouver des solutions pour franchir les lignes adverses.

Les Britanniques testent un blindé à chenilles dès 1914 pour accompagner l'infanterie et engagent pour la première fois de vrais chars de combat en septembre 1916 dans la Somme, avec des résultats encore peu probants.

Si les Allemands commettent l'erreur de ne pas croire à l'avenir de cette arme nouvelle, dont ils se désintéressent totalement, les Français en revanche s'équipent bientôt de chars légers Renault, mobiles et maniables. Ils joueront un rôle important dans la victoire finale en 1918.

Le casque métallique pour se protéger la tête des éclats se généralise dans toutes les armées en 1915 et les barbelés enchevêtrés –amélioration d'une invention américaine pour clôturer les parcs à bétail– zèbrent le champ de bataille de puissants dispositifs de défense. Des milliers de fantassins perdront la vie accrochés à ces barbelés, ce qui vaudra à ces derniers de recevoir des «Poilus» français le terrible sobriquet de «séchoirs».

La guerre à outrance fait voler en éclats toutes les tentatives de régulation des armements. Et l'innovation la plus terrifiante, les gaz de combats, utilisés pour la première fois par les Allemands, va marquer tous les esprits.

En avril 1915, à Ypres, en Belgique, soldats français et belges voient d'épaisses fumées s'élever des tranchées allemandes. «J'ai vu alors un nuage de couleur verte, haut d'environ dix mètres et particulièrement épais à la base, qui touchait le sol. Ce nuage avançait vers nous, poussé par le vent. Presque aussitôt, nous avons littéralement suffoqué», témoigne le lieutenant français Jules-Henri Guntzberger.

Les gaz terrorisent les combattants. Pris de panique, aveuglés, asphyxiés, ils meurent par milliers dans d'atroces souffrances. Les deux camps vont perfectionner l'arme chimique tout au long de la guerre, mais elle ne s'imposera jamais vraiment, car elle reste risquée pour ceux qui l'utilisent et les parades se développent: aux mouchoirs mouillés que les soldats s'appliquent sur le visage lors des premières attaques succèdent bientôt lunettes de protection et premiers masques en toile.

Au total, les gaz ne causeront que moins de 1% des victimes du conflit, mais leur horreur marquera durablement l'imaginaire collectif et explique aujourd'hui encore la mobilisation internationale lorsque le régime syrien a lancé en août 2012 une attaque chimique contre sa propre population.

Pour les soldats terrés dans les tranchées, le danger peut désormais aussi venir du ciel. En 1914, l'aviation de combat n'en est qu'à ses balbutiements. Mais les milliers d'appareils dont seront dotés les deux camps quatre ans plus tard – environ 3.700 pour la seule armée française – témoignent de l'intense mobilisation industrielle dont a bénéficié cette arme nouvelle, à l'instar de toutes les autres.

Verdun, dans l'est de la France, sera le théâtre en 1916 de la première vraie bataille aérienne à grande échelle. «Si la Grande Guerre reste une bataille terrestre par excellence, elle met en exergue un concept stratégique dont les conflits ultérieurs du 20e siècle vont valider l'importance: la maîtrise de l'air comme préalable à toute action d'envergure au sol», écrit l'historien français Jean-Yves Le Naour dans son «Dictionnaire de la Grande Guerre» (Larousse).

Innovation aussi dans la guerre navale. Les Allemands, qui ont renoncé à concurrencer la puissance britannique sur les océans, construisent en revanche massivement des sous-marins -les «U-Boote»- dès le début de la guerre: ils en alignent 150 début 1917 contre une quinzaine deux ans avant, et en lanceront 350 au total durant le conflit.

Pensant pouvoir rompre le blocus maritime imposé à l'Allemagne par la flotte britannique, Berlin déclenche la première guerre sous-marine en Mer du Nord. Son élargissement et son intensification début 1917 pour tenter d'asphyxier les Alliés se retournera toutefois contre Berlin, car elle jouera un rôle déterminant dans l'entrée en guerre des Etats-Unis.

Aucune de ces nouvelles armes ne sera à elle seule décisive: c'est finalement la puissante machine de guerre industrielle américaine qui fera pencher la balance en faveur des Alliés, face à des empires centraux épuisés. Mais avec la puissance de feu et la débauche de matériels et d'inventions dont elle fut le théâtre, la Grande Guerre préfigure la plupart des conflits à venir. (dch/jba/lma/pt AFP Feb 14, 2014)

'

The Greatest Catastrophe the World Has Seen'
The War That Ended Peace: The Road to 1914
by Margaret MacMillan -Random House, 739 pp., $35.001913: In Search of the World Before the Great War
by Charles Emmerson -PublicAffairs, 526 pp., $30.00

The Russian Origins of the First World War
by Sean McMeekin -Belknap Press/Harvard University Press, 324 pp., $29.95; $18.95 (paper)

July 1914: Countdown to War
by Sean McMeekin -Basic Books, 461 pp., $29.99

The Sleepwalkers: How Europe Went to War in 1914
by Christopher Clark -Harper, 697 pp., $29.99

Catastrophe 1914: Europe Goes to War
by Max Hastings -Knopf, 628 pp., $35.00
June 28, 1914, Sarajevo, Bosnia. The Archduke Franz Ferdinand, heir to the multinational Habsburg realms, resplendent in the dress uniform of an Austrian cavalry general, but also absurd in his plumed headdress, was shot at close range by Gavrilo Princip, a local student dropout obsessed with the Serbian national cause.
Sarajevo was one of history's most purple passages: there was the drama of bungled security and hamfisted conspiracy; spectacle and gore; the play of intention and chance; the clash of generations and civilizations, of the old monarchical Europe and the modern terrorist cell.
But of course the Sarajevo assassination captivates posterity for its consequences. Piqued in its prestige and fearful of the threat to its status as a great power by subversion fanned from Serbia, the Austro-Hungarian government delivered an ultimatum to its obstreperous little Balkan neighbor, demanding a say in the management of its internal affairs.
Russia stepped in to protect its Serbian clients; the Germans supported their Austrian allies; the French marched to fulfill their treaty obligations to Russia; Great Britain honored its commitment to come to the aid of France. Within five weeks a great war had broken out. At the very least, this is a gripping tale. Sean McMeekin's chronicle of these weeks in July 1914: Countdown to War is almost impossible to put down.
Thus was unleashed the calamitous conflict that, more than any other series of events, has shaped the world ever since; without it we can doubt that communism would have taken hold in Russia, fascism in Italy, and Nazism in Germany, or that global empires would have disintegrated so rapidly and so chaotically. A century on we still search for its causes, and very often, if possible, for people to blame. In the immediate aftermath of war that seemed clear to many: Germany, and especially its leaders, had been responsible; the Austrians too, as accomplices, in lesser degree.
The Treaty of Versailles made this official, as the victorious powers there spoke of a "war imposed upon them by the aggression of Germany and her allies." This was the notorious guilt clause used to justify severe "reparation" payments stretching far into the future. It was a widespread view, and ordinary Germans might have shared it if the vanquishers had not gone for the premise of collective responsibility, which undermined attempts to build a fresh German regime untainted by the past…
MORE
Más de 150 archivos secretos de la I Guerra Mundial disponibles online

Londres, 10 abr (EFE).- Más de 150 archivos secretos de la Primera Guerra Mundial, con información sobre organizaciones y personas involucradas en actividades de espionaje durante el conflicto, están disponibles en internet a partir de hoy.

El Archivo Nacional británico ha hecho posible el acceso online por primera vez a esos documentos clasificados después de digitalizar archivos del servicio de contraespionaje británico MI5 como parte del programa de conmemoración del centenario del conflicto sucedido entre 1914 y 1918.

Entre esos ficheros figuran informes de interrogatorios, cartas, postales y fotos relacionadas con personas y grupos que estaban sometidos a vigilancia durante la llamada «Gran Guerra».

Esos documentos digitalizados contienen datos sensibles de espías de todo el mundo, entre ellos británicos célebres como la enfermera Edith Cavell, que salvó las vidas de numerosos soldados en la Bélgica ocupada, de la espía Mata Hari, el autor Arthur Ransome o el poeta norteamericano Ezra Pound.

Los ficheros incluyen además informes secretos y datos sobre organizaciones como el Partido Bolchevique, el Partido Comunista Británico y la Asociación de Boy Scouts.

También estarán a disposición de los ciudadanos por internet otros informes con información sobre figuras políticas como los líderes rusos como Léon Trotsky y Vladimir Ilich Lenin.

«Los archivos de la colección del Archivo Nacional revelan la importancia del servicio de seguridad británico para salvaguardar a la nación durante la Primera Guerra Mundial», señaló hoy Stephen Twigge, especialista del Archivo británico.

Según Twigge, ahora que esos ficheros están disponibles por internet como parte del Programa del Centenario de la Primera Guerra Mundial, «personas de todo el mundo podrán descubrir por sí mismas la historia secreta que había detrás de la guerra». EFE

09-04-2014, 23:24:00
A Revolution in Killing: The Technological Innovations of WWI
A new era in warfare was born on the battlefields of Flanders in 1915. German troops launched a chlorine gas attack in the first ever large-scale use of chemical weapons. It was but one of the technical innovations seen during World War I, and not all of them were as deadly.
The man who would go down in history as the father of chemical warfare acted as his own guinea pig to test his invention. On April 2, 1915, Fritz Haber, the head of Berlin's Kaiser Wilhelm Institute of Physical Chemistry, rode through a yellow-green cloud of chlorine gas on grounds used for troop exercises.
The experiment was successful. The scientist, himself a war enthusiast, began coughing convulsively; he grew pale and had to be carried away on a stretcher.
About three weeks later, German troops used chlorine gas for the first time on a mass scale during combat on the Western Front near the Flemish city of Ypres in Belgium, deploying a total of 150 tons of the substance. At first, French soldiers thought the shimmering cloud was intended as a diversionary tactic. But then, suddenly, they began flailing about with their hands in the air as they gasped for breath and collapsed on the ground. As many as 1,200 were killed and 3,000 wounded. Haber observed the event from a safe distance.
The Birth of Weapons of Mass Destruction
In military history, the deployment of chlorine gas in Ypres is considered the moment when weapons of mass destruction were born, and the rapid development of additional chemical weapons ensued. It was a development that revolutionized warfare and has manifested itself in many ways: from the use of toxic defoliants like Agent Orange in the Vietnam War to the more recent poison gas attacks in the Syrian civil war.
The use of chemical weapons in Flanders was the result of military desperation. The German army's initial invasion had already devolved into stationary trench warfare by the end of 1914 and was running out of munitions.
All sides were looking for a way to break through enemy lines at the time and they spent billions on the search. The result was an unprecedented advance in technology. Researchers invented mobile radio telephones, engineers constructed cannons capable of firing shells as far as 120 kilometers (74.5 miles) and fighter planes were flown into battle zones for the first time ever… MORE
On the Story from DER SPIEGEL: the unhealed wounds
Related SPIEGEL ONLINE links
RELATED
Judgement and understanding: Margaret MacMillan on the First World War  by Jonathan Derbyshire/ Prospect. November 6, 2013
Poison Gas In World War I – Analysis
Max Hastings' brief history of war
The factors that plunged Europe into war in 1914 By Tony Barber (FT)
Mons prepares to share its memories of Europe's killing fields (The Guardian)
The War Poets revisited: a modern-day response to 1914 (The Guardian)
Great War in Portraits exhibition to go beyond the pomp and circumstance (The Guardian)
The War That Ended Peace: The Road to 1914 by Margaret MacMillan – review (The Guardian)
Remembering WWI: German Hopes for Centenary May Be Dashed  By David Crossland  (Der Spiegel)
When 50,000 Irishmen gathered to commemorate the First World War (The Spectator)
 @Cronica_ElMundo regresa a la Gran Guerra que cambió el mundo hace cien años http://www.elmundo.es/cronica/2013/12/29/52be8b5c268e3eed378b456b.html … …
SARAJEVO, 1914-2014: «Sarajevo: the crossroads of history» By Simon Kuper (F Times, March 21, 2014)
A century on, World War I remains 'the Great War' for the Brits. Why? (CSMonitor)