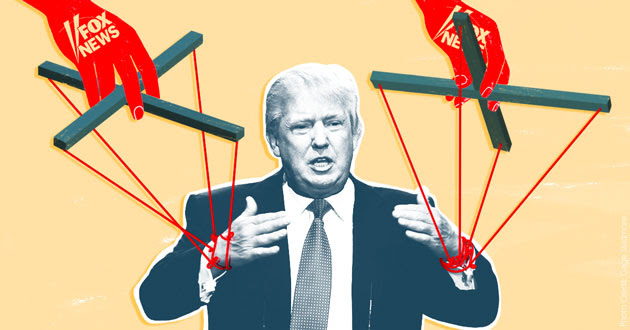 Felipe,
This week: Fox News triggered Trump into threatening to cancel NPR; CBS hires Reince Priebus; how Trump's Senate trial involves Fox News; terrible climate crisis denial on CNBC; how Fox loves CEOs; Chris Matthews suggests that the word «lie» has been banned on MSNBC; and much more.
The cycle of Fox News coverage and President Donald Trump's id repeated itself this weekend, this time involving the network's coverage of the now-infamous blowup between Secretary of State Mike Pompeo and NPR reporter Mary Louise Kelly.
Kelly interviewed Pompeo on Friday. She asked him about Ukraine and impeachment, and he responded that he was only on to talk about Iran. After the interview, Kelly reported that Pompeo challenged her to find Ukraine on a map of the world without country labels on it. She also contends that Pompeo used profanity throughout their exchange.
After Kelly reported that, Pompeo responded with an official statement on Saturday, calling her a liar and suggesting that she confused Ukraine with Bangladesh. As many pointed out, this is ridiculous: Kelly has a masters degree in European studies from Cambridge and would not have said that Ukraine is in southeast Asia.
But Fox News took Pompeo's insult credulously, writing it up and leading its website. Fox host Mark Levin tweeted a link to the story, suggesting that NPR should no longer exist. Trump immediately agreed.
Trump's impeachment trial shows how Fox News has merged with the Republican Party
We're only a few days into Trump's impeachment trial in the Senate. And yet, one thing is perfectly clear: It is impossible to understate the ways that Fox News is influencing both the proceedings and how many Americans are viewing it. Here's just a partial list:
Diving a little into the mechanics of how Fox News is misleading about the trial, look at this chart about how Fox News is just covering the trial far less than CNN and MSNBC:
On Thursday night, Fox News prime time showed just 22 seconds of the trial live. We also made a time-lapse video of one day of Fox's coverage, to show just how much they cut away and talked over the trial.
CBS hires Reince Priebus, whose firm represents the Trump Organization
CBS hired Reince Priebus as a commentator and introduced him on air as simply Trump's first White House chief of staff. Since his humiliating tenure at the White House, Priebus has accepted a senior role at lobbying and legal firms that have collected over $280,000 in fees from Republican campaign groups.
Priebus is currently employed by Michael Best & Friedrich LLP as President and Chief Strategist and Chair of the Board of Advisors for Michael Best Strategies LLC, the firm's government relations and public affairs group.
The company has lobbied for companies that include NACCO Industries (the public holding company for the North American Coal Corp.), Plains All American Pipeline, and the Primex Family of Companies.

The company has also received over $280,000 in legal fees from Republicans.

Stefan Passantino, a former White House deputy counsel and current partner at the firm, also represents the Trump Organization regarding congressional inquiries into the president's business.

There may be more conflicts of interest: Public relations work is not subject to federal disclosure rules.
While Priebus himself has not registered to lobby for clients, these conflicts of interest were not disclosed in his first appearance on CBS.
In addition, Priebus is a serial misinformer, who was corrected by CBS for lying just a few months prior to his hire.⁠
Steve Mnuchin's debunked attack on Greta Thunberg reveals serious problems with how the media talks about the climate crisis
Climate activist Greta Thunberg told the World Economic Forum that governments should divest from fossil fuels given the catastrophe of the climate crisis. In response, United States Treasury Secretary Steven Mnuchin sneered at her activism and told her to go study economics. Just one problem: Thunberg was right.
Mnuchin's own government released a National Climate Assessment in 2018 that said that climate change, if left unaddressed, would cost the U.S. economy $500 billion per year. A massive new report by the Bank for International Settlements also has linked climate change to a possible financial crisis. Furthermore, actual economist Gernot Wagner told The Washington Post that Mnuchin is completely wrong about Economics 101, using a delightful analogy about rabbits on a communal meadow.
Right-wing media sites were thrilled at Mnuchin's attack, with some suggesting that Thunberg had a mind full of mush and others saying that people like her should be seen and not heard. In short: it was the standard information-free bullying that you would expect.
Mnuchin then dropped by CNBC's Squawk Box to discuss his remarks. What ensued was a cavalcade of lies and climate denial.
The softball CNBC interview had Mnuchin throwing out a number of right-wing talking points on climate change and generally showing that he has no understanding of the issue. Co-anchor Joe Kernan just egged him on, even suggesting that climate alarmism was driving increasing discussions of the climate crisis.
In fact, the entire conversation seemed to take place in a universe where climate change is not an urgent problem, where Australia is not on fire, where ocean life is not dying, and where the United States is not repeatedly hit with climate-fueled catastrophes like wildfires, hurricanes, and flooding. The only voice of reason in the discussion was co-anchor Andrew Ross Sorkin, who used JPMorgan Chase CEO Jamie Dimon of all people as a counterpoint to what Mnuchin was saying. The media should be touting what experts say, not what bank CEOs are saying.
Facebook is letting a pro-Trump super PAC lie repeatedly
Judd Legum reported that Facebook is allowing a major pro-Trump Super PAC, the Committee to Defend the President, to "run ads with lies."
"Since Saturday, the Committee to Defend the President is running multiple ads that claim former Vice President Joe Biden is 'a criminal who used his power as Vice President to make him and his son RICH,'" according to Legum's report.
According to Facebook's own fact-checking partners, this claim is false. PolitiFact and FactCheck.org, both fact-checking partners of Facebook, debunked Trump's suggestion previously.
Facebook's ad policy specifically bans ads that have been debunked by third-party fact-checkers.
The social network has neglected to enforce the few rules that it has. Despite prohibiting attacks that target a group of people based on their immigration status, Facebook let Trump run over 2,000 ads in early 2019 referring to immigration to the United States as an "invasion," which has long been a white supremacist talking point. Facebook also let Trump run hundreds of ads in April of 2019 that violated its policy about "personal attributes" of users. And just today, CNN reported that Trump is running ads blatantly lying about the Super Bowl.
Trump's new Border Patrol chief previously lied to Fox News about the administration's family separation policy
Trump reportedly has selected Border Patrol agent Rodney Scott to lead the agency as the current chief steps down at the end of the month. As with many Trump appointees, Scott has appeared multiple times on Fox News to provide pro-Trump spin and in 2018, lied on-air that Trump's family separation policy actually did not exist.
Scott's lie is an iteration of a right-wing media lie that was common at the time and was relentlessly pushed by former Homeland Security Secretary Kirstjen Nielsen, as well as some of Trump's favorite shows like Fox & Friends.
There is no question that it is a lie. As Vox has reported, Trump's policy did not explicitly state that all families entering the United States without documentation must be separated, but rather that "all adults caught crossing into the US illegally are supposed to be criminally prosecuted — and when that happens to a parent, separation is inevitable."
Additionally, according to a 2019 report from The Intercept, Scott was a member of a secret Facebook group in which his fellow Border Patrol posted extremely vulgar, racist, and sexist content about immigrants, as well as members of Congress, including Rep. Alexandria Ocasio-Cortez (D-NY.)
Fox News and Fox Business are not just pro-rich, they revel in the very concept. For years, Fox News and Fox Business have hosted many company founders, current and former partners and CEOs, and finance friendly politicians on-air and given them the softball interviews. We've put together a quick reel of them introducing CEOs to just give a sense of it. Compare this to the disdain in which Fox hosts talk about how normal people have microwaves, for instance.
Images by Media Matters and Creative Commons. Audrey Bowler and Jake Dougherty contributed to this email.