The Global Gender Gap Report 2014 benchmarks national gender gaps of 142 countries on economic, political, education- and health-based criteria.
This year is the 9th edition of the Index, allowing for time-series analysis on the changing patterns of gender equality around the world and comparisons between and within countries.
The rankings are designed to create greater awareness among a global audience of the challenges posed by gender gaps and the opportunities created by reducing them. The methodology and quantitative analysis behind the rankings are intended to serve as a basis for designing effective measures for reducing gender gaps.
The Global Gender Gap Report 2014 emphasizes persisting gender gap divides across and within regions. Based on the nine years of data available for the 111 countries that have been part of the report since its inception, the world has seen only a small improvement in equality for women in the workplace. According to the Global Gender Gap Report 2014, launched today, the gender gap for economic participation and opportunity now stands at 60% worldwide, having closed by 4% from 56% in 2006.
The gender gap is narrowest in terms of health and survival with a gap standing at 96% globally, with 35 countries having closed the gap entirely. Despite all this, it is the only subindex which declined over the course of the past nine years.  The educational attainment gap is the next narrowest, standing at 94% globally. Here, 25 countries have closed the gap entirely. While the gender gap for economic participation and opportunity lags stubbornly behind, the gap for political empowerment, the fourth pillar measured, remains wider still, standing at 21%, although this area has seen the most improvement since 2006.
This year's findings show that Iceland continues to be at the top of the overall rankings in The Global Gender Gap Index for the sixth consecutive year. Finland ranks in second position, and Norway holds the third place in the overall ranking. Sweden remains in fourth position and Denmark gains three places and ranks this year at the fifth position. Northern European countries dominate the top 10 with Ireland in the eighth position and Belgium (10) Nicaragua (6), Rwanda (7) and Philippines (9) complete the top 10.
The index continues to track the strong correlation between a country's gender gap and its national competitiveness. Because women account for one-half of a country's potential talent base, a nation's competitiveness in the long term depends significantly on whether and how it educates and utilizes its women.
Download full report
Country Profiles
Press releases:
English | عربي I Español I Français I Deutsch I
Português I 中文 I 日本語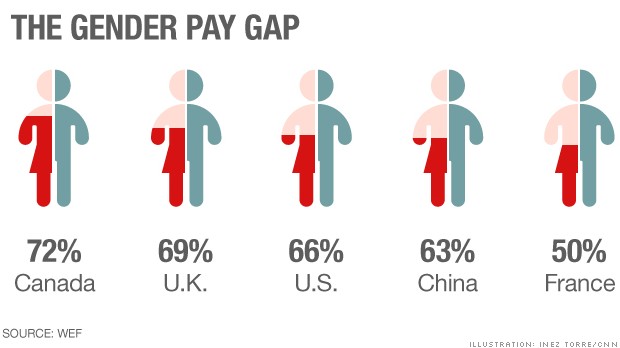 Waiting for the gender gap to close? Equality at work more than 80 years off, WEF report says http://u.afp.com/29Z