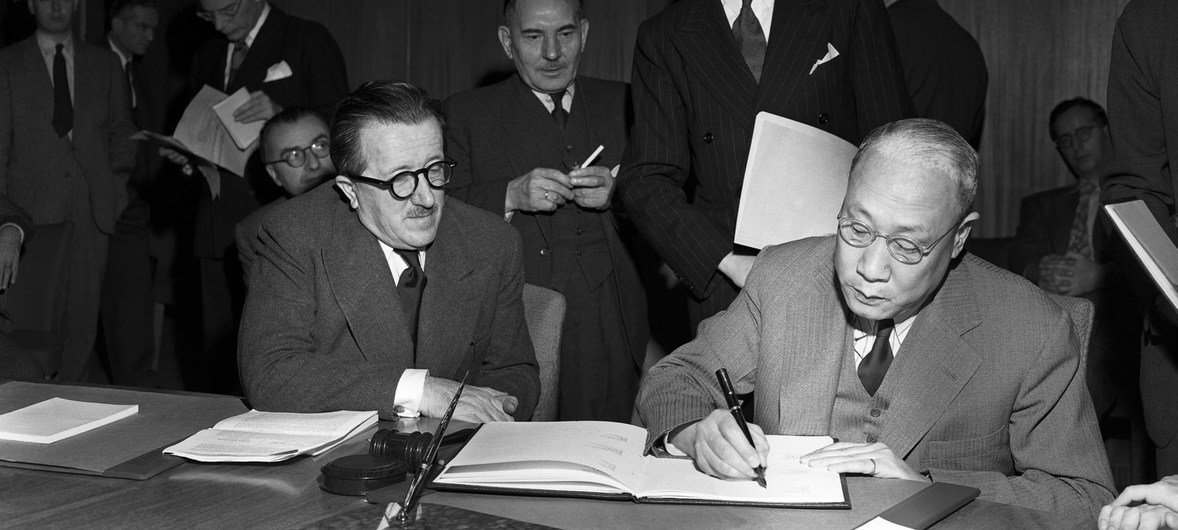 In commemorating the 70th anniversary of the landmark Geneva Conventions, the president of the United Nations Security Council hailed the "significant body of law", describing it as playing "a vital role in limiting brutality of armed conflicts".
In the aftermath of the Second World War, the treaty, comprised of four Conventions and three Additional Protocols, established the modern, international legal standards for humanitarian treatment during times of war. They were agreed on 12 August 1949, and with some exceptions, ratified by 196 countries around the world.
"As they are ratified and acceded by almost every State of the world, the principles and legal norms enshrined in these Conventions are also recognized as customary international humanitarian law [IHL] and are universally applicable", said Poland's Foreign Minister Jacek Czaputowicz, speaking for his nation which holds the Presidency of the Council for August. "This is a rare quality for any multilateral treaty".
Among other things, the Conventions established protections for vulnerable groups in armed conflict, namely the wounded and sick; prisoners of war; and civilians, including civilians living under occupation.
Because Poland has been "painfully affected by consequences of other States' failures to comply with international agreements" and in conjunction with its "sense of responsibility" to maintain international peace and security, Mr. Czaputowicz said that strengthening international law has always been important to his country.
"The greatest challenge to protecting human life in modem conflict is observance of and respect for the existing rules by the armed forces and non-State armed groups", he asserted. "If existing rules were followed, much of the human suffering in contemporary armed conflicts would not occur".
Poland's top diplomat also pointed to new threats that demand practices and policy consistent with international humanitarian law.
"Artificial intelligence and autonomous weapon systems, such as military robots and cyber-weapons, reduce the role and control of human factors during wartime", he continued. Moreover, the general rules of IHL prohibiting indiscriminate and inhumane weapons, "are being violated".
Two IHL principles under the Geneva Conventions that deserve particular attention, according to Mr. Czaputowicz, are "the obligation to protect civilians, prisoners of war, the wounded and shipwrecked" as well as "limitations to the rights of parties to an armed conflict on how they conduct operations and on their choice of weapons".