Más de 7.100 muertes de migrantes en todo el mundo: más de la mitad en el Mediterráneo
Suiza – Hoy 16 de diciembre, la OIM dio a conocer que 7.189 migrantes y refugiados han muerto o siguen desaparecidos en las rutas migratorias mundiales. Este es el número anual más alto que la OIM ha registrado y representa un promedio de 20 muertes por día, lo que sugiere que antes de finales de 2016 se podría registrar la muerte de otros 200 a 300 hombres, mujeres y niños en todo el mundo.
El conteo de muertes de migrantes en lo que va del año 2016 fue compilado por el Proyecto Migrantes Desaparecidos de la OIM y el Centro de Análisis de Datos sobre la Migración Mundial. En comparación, el total de muertes compilado por la OIM en 2014 (5.267) y en 2015 (5.740) fue inferior a 6.000 víctimas, una cifra que este año se sobrepasó antes de finales de noviembre. Al igual que en los dos años anteriores, el número de muertes en las tres principales rutas del Mediterráneo que unen África del Norte y Medio Oriente con Europa representó más del 60 por ciento de todas las muertes contabilizadas en todo el mundo.
La OIM informa que el número de migrantes registrados como muertos, desaparecidos o presuntamente muertos parece estar aumentando en todas las regiones, incluyendo el Mediterráneo, el norte y el sur de África, así como en Centroamérica y en la región fronteriza entre los Estados Unidos y México. En lo que va del año ya se superó el conteo de víctimas en estas regiones en 2015, de acuerdo con datos recientes de la OIM.
By Lin Taylor
LONDON, Dec 18 (Thomson Reuters Foundation) – War and poverty in the Middle East and Africa have forced record numbers to flee their homes, fuelling Europe's largest refugee and migrant crisis since World War Two.
Some 1.4 million people have headed to Europe in the last two years, triggering disputes between countries over how to handle the influx and boosting support for anti-immigration populists.
In the United States, President-elect Donald Trump, who made immigration a key campaign issue, has promised to build a wall along the Mexican border, deport millions of undocumented immigrants and ban immigration from countries that have been «compromised by terrorism».
Sunday, Dec. 18, is International Migrants Day. Here are some facts on migrants and refugees:
– The number of international migrants has increased over the past 50 years to nearly 250 million in 2015, from about 79 million in 1960.
– International migrants – those living in a country that is different from their country or territory of birth – make up 3.3 percent of the world's population.
– Migrants and refugees often travel in the same way. But economic migrants leave their country to improve the future economic prospects of themselves and their families, whereas refugees are fleeing conflict or persecution.
– At the end of 2015 there were 65.3 million forcibly displaced people. They included 21.3 million refugees, 40.8 million internally displaced and 3.2 million asylum seekers.
– One in every 113 people globally is either an asylum-seeker, internally displaced or a refugee.
– More than 4,700 migrants have died attempting treacherous sea journeys to Europe this year, the deadliest on record.
– Italy has become the top destination for those heading to Europe by boat, with more than 179,000 arrivals.
– The U.S. has more international migrants than any other country, ahead of Germany (12 mln), Russia (11.6 mln), Saudi Arabia (10.2 mln) and Britain (8.5 mln).
– The U.S.-Mexico migration corridor is one of the most travelled routes in the world. During fiscal year 2016, which ended in September, the number of people detained along the border surpassed 408,000, a 23 percent jump from last year, although it was less than in 2014.
– In 2015, migrants around the world sent nearly 600 billion dollars back to relatives in their home countries.
– Nine in 10 refugees are hosted in developing regions. Turkey has the largest number with more than 3 million refugees.
– As weather extremes strengthen and sea levels rise, migration experts have warned that forced migration linked to climate pressures is poised to become a problem that could dwarf refugee flows.
– The average number of people displaced by natural disasters, including floods, storms and droughts, has averaged 22.5 million a year since 2008 and is growing.
Sources: Pew Research Center, UNHCR, UNICEF, IOM
(Reporting by Lin Taylor @linnytayls, Editing by Emma Batha. Please credit the Thomson Reuters Foundation, the charitable arm of Thomson Reuters that covers humanitarian issues, conflicts, global land and property rights, modern slavery and human trafficking, women's rights, and climate change. Visit http://news.trust.org  to see more stories)
MIGRANTS-FACTS (FACTBOX)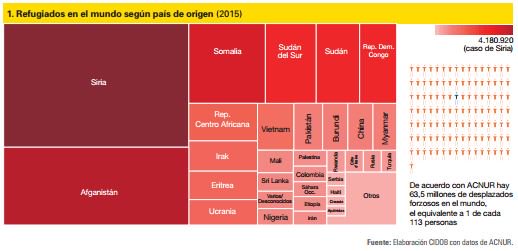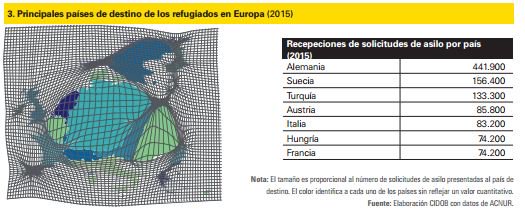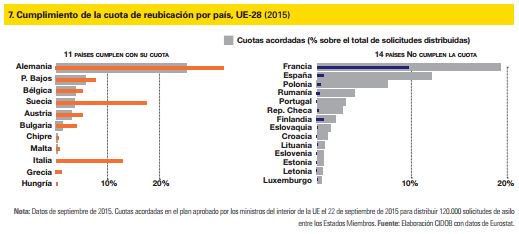 Related
Día Internacional del Migrante: Mensaje del Director General de la OIM, Embajador William Lacy Swing
Migration: a common challenge-EU in search of response to refugee crisis