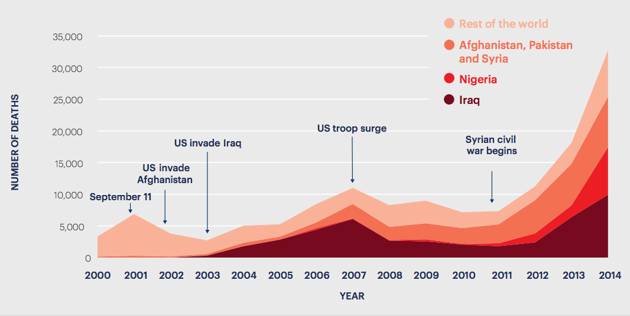 Civil war is driving many recent attacks, and that blurs both statistics and remedies.
These days, terrorism seems not just more lethal and more common, but more widespread. The death toll in recent weeks speaks for itself: 22 people dead in Bangladesh, 49 gone in the United States, 44 gone in Turkey, 292 gone in Iraq, then another 37, another 12, yet another 12.
And by one oft-cited measure—the Institute for Economics and Peace's Global Terrorism Index—that's true. As a rough representation of the global threat of terrorism nearly 15 years after the 9/11 attacks—nearly 15 years after George W. Bush declared that his "war on terror" would "not end until every terrorist group of global reach has been found, stopped, and defeated"—the findings are extremely disheartening. War, they suggest, has only brought more terror.