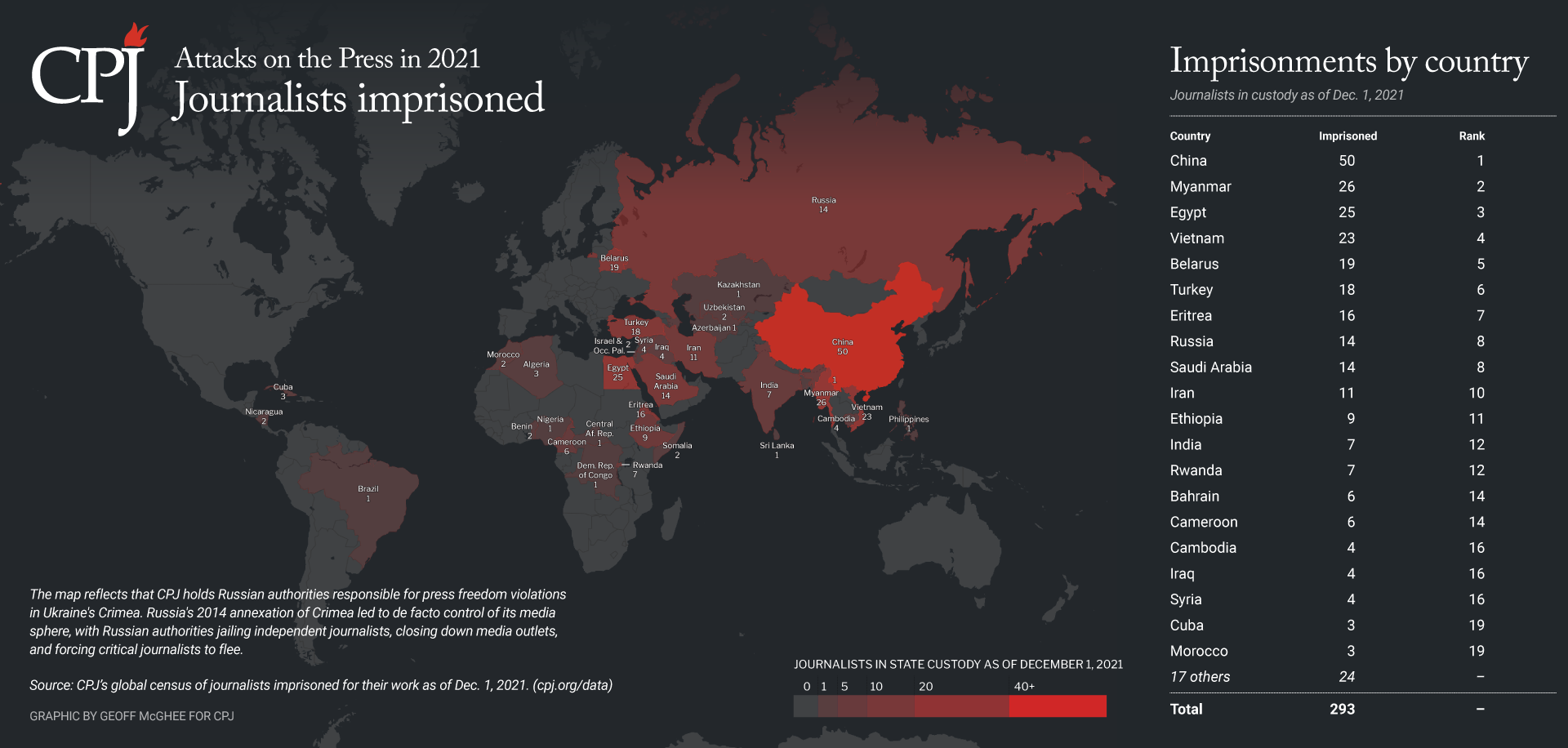 China remains the world's worst jailer of journalists; India and Mexico rank among the deadliest
New York December 9, 2021–The number of journalists behind bars reached a record high in 2021, with 293 behind bars as political upheaval and media crackdowns reflect increasing intolerance for independent reporting around the world. At the same time, targeted killings of journalists persist, with 24 documented by the Committee to Protect Journalists in its annual prison census and survey of attacks on the press.
China continues to be the world's worst jailer, with CPJ's 2021 prison census documenting 50 behind bars as the country prepares to host the Beijing Winter Olympics in February 2022. It is followed by Myanmar (26), which arrested scores of reporters in a wave of repression following its February 1 military coup, then Egypt (25), Vietnam (23) and Belarus (19). For the first time, CPJ's census includes journalists jailed in Hong Kong, such as Apple Daily founder, Jimmy Lai, who was honored with CPJ's 2021 Gwen Ifill Press Freedom Award. In Ethiopia, an escalating civil war prompted new media restrictions that saw it emerge as the second-worst jailer of journalists in sub-Saharan Africa, after Eritrea. 
"This is the sixth year in a row that CPJ has documented record numbers of journalists imprisoned around the world. The number reflects two inextricable challenges — governments are determined to control and manage information, and they are increasingly brazen in their efforts to do so," said CPJ Executive Director, Joel Simon. "Imprisoning journalists for reporting the news is the hallmark of an authoritarian regime. It's distressing to see many countries on the list year after year, but it is especially horrifying that Myanmar and Ethiopia have so brutally slammed the door on press freedom."
Estimado amigo/a,
Le invitamos a participar en la edición 2022 de la Clasificación Mundial de la Libertad de Prensa de Reporteros Sin Fronteras (RSF) respondiendo a nuestro nuevo cuestionario. En aras de una mayor claridad, este año lo hemos reorganizado y reformulado, reforzando también los aspectos relacionados con la digitalización.
La lucha por la libertad de prensa es fundamental en un mundo en el que la violencia y la presión a las que se ven sometidos los periodistas, así como los ataques a la independencia de los medios, hacen peligrar el derecho a la información. Desde hace 20 años, la Clasificación Mundial de la Libertad de Prensa de Reporteros Sin Fronteras (RSF) es una herramienta de defensa indispensable en el ejercicio de la presión sobre los Estados. Miles de medios de comunicación de todo el mundo citan sus resultados, provocando así reacciones concretas de gobiernos y organizaciones internacionales. 
Sin embargo, sin su colaboración esta clasificación no sería posible. ¿Aceptaría emplear unos minutos de su tiempo para cumplimentar este cuestionario online sobre la libertad de prensa en su país? Puede responder hasta el 31 de Enero de 2022 aquí – este link es único e individual: https://index-respondent.rsf.org/9ed0b132019a6d657aad8be5ed41f0f675354c4fed38189b7acae10270d7e565
Al hacer clic sobre el enlace, por su seguridad, se le solicitará crear una contraseña de cuatro cifras cuando acceda al cuestionario por primera vez. Esto resultará útil si continúa cumplimentando su cuestionario desde cualquier otro dispositivo.
En el caso de que decida no participar en la edición de la clasificación de 2022, le agradeceríamos nos lo hiciera saber contestando a este correo electrónico.
Gracias de nuevo por su apoyo a RSF; ya estemos sobre el terreno o en el Consejo de Seguridad de la ONU, siempre nos resulta indispensable.
Cordialmente,
REPORTEROS SIN FRONTERAS
Nalini Lepetit-Chella
Responsable de la Clasificación Mundial para la Libertad de Prensa
index@rsf.org
https://rsf.org/en/ranking
Récord de #periodistas detenidos en 2021 y al menos 24 asesinados por su reporterismo…. https://reuters.com/world/china/number-jailed-journalists-reached-global-high-2021-least-24-killed-their-2021-12-09/?utm_source=Pew+Research+Center&utm_campaign=f9c016fe13-EMAIL_CAMPAIGN_2021_12_10_03_10&utm_medium=email&utm_term=0_3e953b9b70-f9c016fe13-399350549… v @Reuters
Three subtle biases of mainstream #media pushing misinformation, disinformation and poisonous lies…. -by Robert Reich @RBReich https://theguardian.com/commentisfree/2021/dec/09/whats-really-wrong-mainstream-media… v @guardian
Related
In the battle between truth and lies, we must protect the world's journalists (Joel Simon, The Guardian)