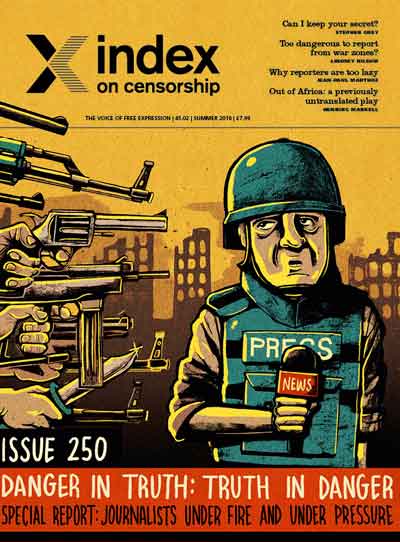 Journalists under fire and under pressure: summer magazine 2016
By Vicky Baker / 28 June 2016
Index on Censorship has dedicated its milestone 250th issue to exploring the increasing threats to reporters worldwide. Its special report, Truth in Danger, Danger in Truth: Journalists Under Fire and Under Pressure, is out now.
Highlights include Lindsey Hilsum, writing about her friend and colleague, the murdered war reporter Marie Colvin, and asking whether journalists should still be covering war zones. Stephen Greylooks at the difficulties of protecting sources in an era of mass surveillance. Valeria Costa-Kostritsky shows how Europe's journalists are being silenced by accusations that their work threatens national security. Kaya Gençinterviews Turkey's threatened investigative journalists, and Steven Borowiec lifts the lid on the cosy relationships inside Japan's press clubs. Plus, the inside track on what it is really like to be a local reporter in Syria and Eritrea.
Also in this issue: the late Swedish crime writer Henning Mankell explores colonialism in Africa in an exclusive play extract; Jemimah Steinfeld interviews China's most famous political cartoonist; Irene Caselli writes about the controversies and censorship of Latin America's soap operas; and Norwegian musician Moddi tells how hate mail sparked an album of music that had been silenced.
The 250th cover is by Ben Jennings. Plus there are cartoons and illustrations by Martin Rowson,Brian John Spencer, Sam Darlow and Chinese cartoonist Rebel Pepper.
You can order your copy here, or take out a digital subscription via Exact Editions. Copies are also available at the BFI, the Serpentine Gallery, MagCulture, (London), News from Nowhere (Liverpool), Home (Manchester) and on Amazon. Each magazine sale helps Index on Censorship continue its fight for free expression worldwide.
Index on Censorship magazine was started in 1972 and remains the only global magazine dedicated to free expression. It has produced 250 issues, with contributors including Samuel Beckett, Gabriel García Marquéz, Nadine Gordimer, Arthur Miller, Salman Rushdie, Margaret Atwood, and many more.
CONTENTS
SPECIAL REPORT: Truth in danger, danger in truth. Journalists under fire and under pressure
Editorial: Risky business – Rachael Jolley  on why journalists around the world face increasing threats
Behind the lines – Lindsey Hilsum asks if reporters should still be heading into war zones
We are journalists, not terrorists – Valeria Costa-Kostritsky looks at how reporters around Europe are being silenced by accusations that their work threatens national security
Code of silence – Cristina Marconi shows how Italy's press treads carefully between threats from the mafia and defamation laws from fascist times
Facing the front line – Laura Silvia Battaglia gives the inside track on safety training for Iraqi journalists
Giving up on the graft and the grind – Jean-Paul Marthoz says journalists are failing to cover difficult stories