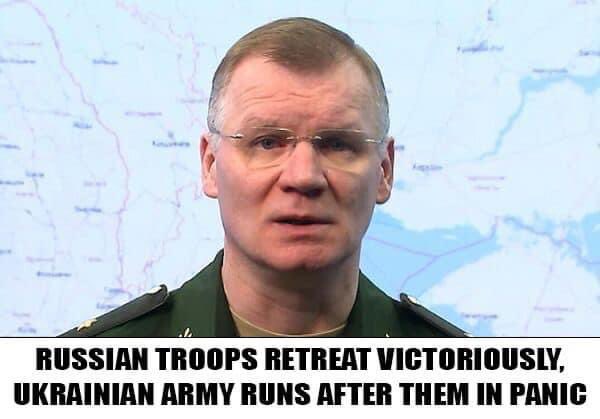 Putin's war in ukraine has been the most colossal misjudgment of any major leader since the end of the cold war.

It's made far worse by putin's dictatorship—the russian people have little idea of the scale and consequences of their leader's disaster.
Russia needs to negotiate w/ Ukraine but hard to imagine putin accepting negotiations that show russia's utter failure more likely that russia will escalate (watch out, europe)
@gzeromedia
#quicktake
gzeromedia.com/quick-take/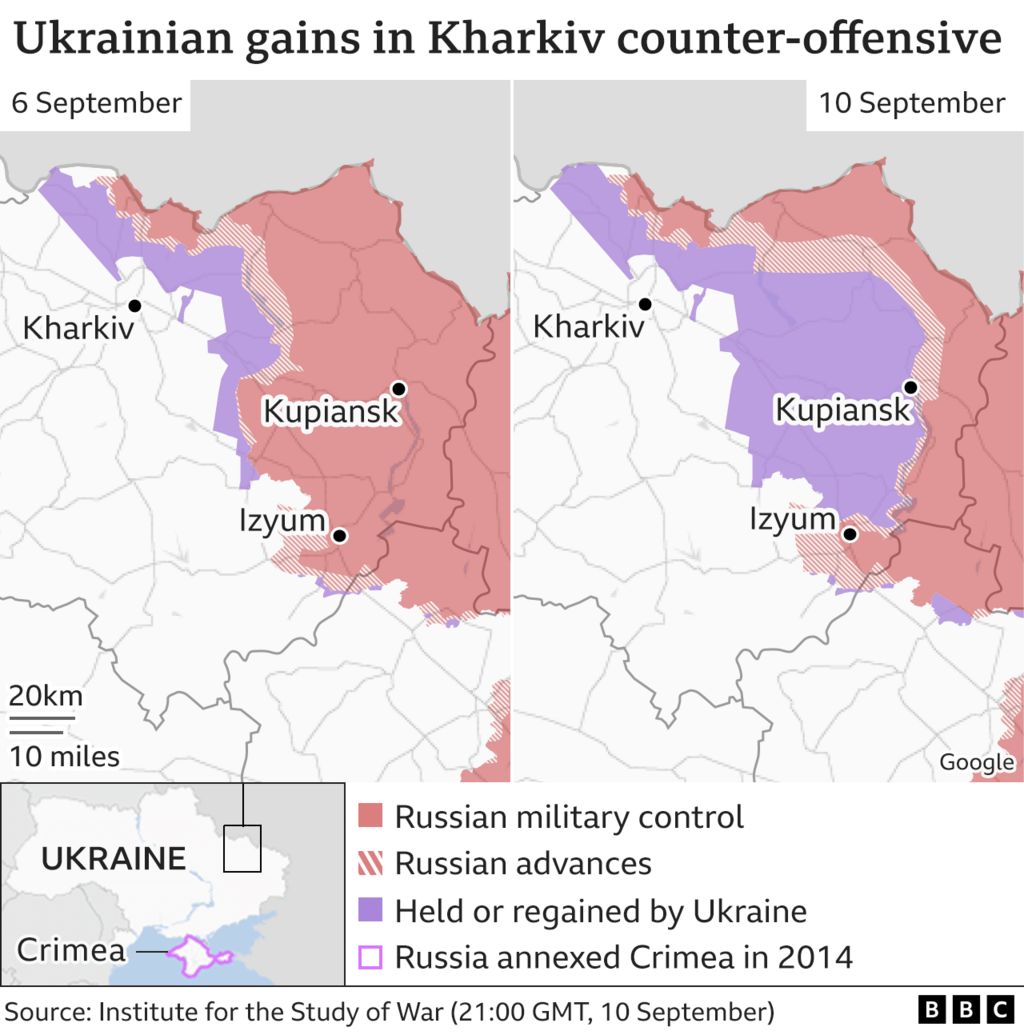 Ukraine's military says its forces have retaken over 3,000 sq km (1,158 sq miles) during a rapid counter-offensive in eastern Ukraine.
The remarkable advance, if confirmed, means Kyiv's forces have tripled their stated gains in little over 48 hours.
On Thursday evening, President Zelensky put the figure at 1,000 sq km, and then 2,000 sq km on Saturday evening.
The BBC cannot verify the Ukrainian figures, and journalists have been denied access to the frontlines.
On Saturday, the eastern counter-attack saw Ukrainian troops enter the vital Russian-held supply towns of Izyum and Kupiansk.
But UK defence officials have warned that fighting has continued outside those towns. And officials in Kyiv said Ukrainian forces were still fighting to gain control of a number of settlements around Izyum.
Ukraine's swiftest advance since driving Russian forces away from the capital in March has turned the tide in the six-month war, unravelling in a matter of days swathes of the gains Moscow had achieved in months of costly fighting in the east.
The latest developments:
Ukrainian forces have advanced north from Kharkiv to within 50 km (30 miles) of the border with Russia and are also pressing to the south and east in the same region, Ukrainian chief commander General Valeriy Zaluzhnyi said.
Zaluzhnyi said Ukraine had retaken more than 3,000 sq km (1,160 sq miles) this month.
On Monday, Britain's defence ministry said Russia had probably ordered the withdrawal of its troops from the entire occupied Kharkiv region west of the Oskil River.
Russia's defence ministry ordered troops to leave the area around the city of Izium, TASS said on Saturday. It also quoted the Russian-installed chief administrator of Russian-controlled parts of the province as telling residents to evacuate to Russia.
Further Russian retreats, especially east of the Oskil, could soon put Ukrainian forces in position to attack territory that Russia and its local proxies had held since 2014.Reuters Sep 12, 202
Related
CNN military analyst says what happens in Ukraine over the next few weeks could define the next few years
• GUERRA EN UCRANIA • ¿Hasta dónde? ¿Hasta cuándo?(LMD, Sep 2022)

Grietas en la propaganda de los medios de la orbita del Kremlin sobre la guerra en Ucrania: críticas al Ejército por perder terreno y contra quienes 'dijeron' a Putin que sus fuerzas serían bien recibidas. Pero como siempre, pase lo q pase, para ellos nada es nunca culpa de Putin

Julia Davis@JuliaDavisNews
Life comes at you fast: pundits on Russian TV realize that their military is failing and their country is in trouble. They are starting to play the blame game. Some of them finally understand that their genocidal denial of the Ukrainian identity isn't working in Russia's favor.
Watch this roundup of clips, featuring panicked Kremlin propagandists on several state TV programs, discussing impressive gains by Ukraine's Armed Forces in reclaiming control over Ukrainian territory. More in my article 
Francis Scarr
@francis_scarr
Some more soul searching on
 TV last night: Karen Shakhnazarov describes what happened in Kharkiv Region as a «defeat», while Sergei Mikheyev slams the Defence Ministry for its linguistic gymnastics «If it was a regrouping to the Donetsk area, then show us some success there»
Hilo de Twitter
Tucker Carlson's top Russia-Ukraine war expert Douglas MacGregor, on Friday night: «This entire war may be over» soon, «right now things are going very, very badly» for the Ukrainians and they're «desperate,» «they're losing once again just south of Kharkiv.»
FoxNews viewers are going to be more shocked by the Russian loss than Russians
Tucker Carlson's top Russia-Ukraine war expert Douglas MacGregor, on Friday night: «This entire war may be over» soon, «right now things are going very, very badly» for the Ukrainians and they're «desperate,» «they're losing once again just south of Kharkiv.»
Tucker Carlson is using Russian talking points regarding the Ukrainian War, which are obviously Lies! The Ukrainians are NOT "desperate" & things are NOT going "very badly" for Ukraine! The Russian Military has been retreating! Carlson is a Liar & a Russian Asset! HE IS A TRAITOR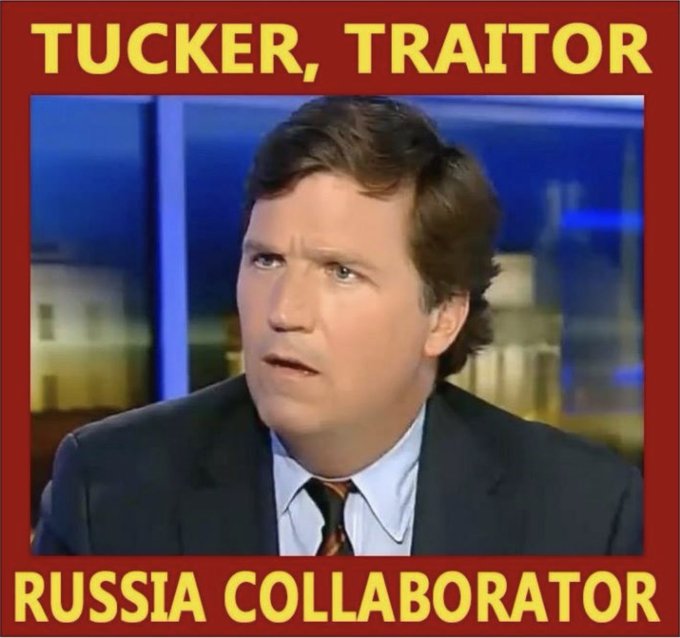 Pundits and 'experts' really need some consequences for getting stuff wrong. Maybe don't invite them back, or at least make them explain or acknowledge their mistake next time.
Andrew MacKenzie@amackenz2048
I hate this attitude. Being wrong is «okay». We should allow people to have opinions and to make guesses based on their knowledge and opinions. They're pundits, not prognosticators.
We're seeing a number of RWM types and GOP electeds behaving like this. Utterly out of contact with reality. This says to me that this group, for whatever reason, just *cannot* have Russia lose. They're signaling there is no alternative. I hope we find out why.
This is even more absurd (and dsngerous) if you look at what is actually happening on Russian state tv (with English subs):
How is it that people get paid to be wrong?