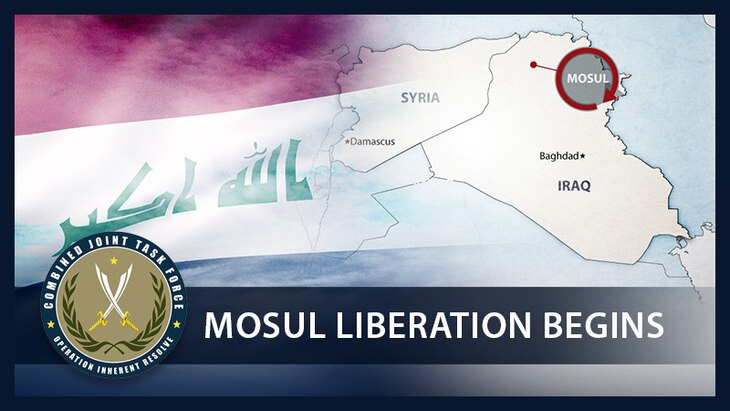 Iraqi forces have begun their counterattack to liberate Mosul from the Islamic State of Iraq and the Levant, according to a statement released by Operation Inherent Resolve officials.
(October 17) Mosul's moment has arrived. The U.S.-led coalition has requested that Iraq keep its air force jets stay away from Mosul, as at least 45,000 troops are reportedly advancing on the country's second-largest city, held by the Islamic State group since their convoys rolled into town back in June 2014. Some reports say the force holds up to 60,000 troops, including some 4,000 Peshmerga fighters reportedly working from the south and east.
Airstrikes and artillery reportedly began early in the morning, with French and American fires reportedly targeting eastern and western Mosul while thousands of additional forces continued to move into position.
Before we get too far along, let's take a moment to think of the dark times ahead for the estimated 1.2 million civilians still in Mosul. The Iraqi government is reportedly so worried that a general toldBuzzfeed's Mike Biglio, reporting northeast of Mosul in Khazer, that Baghdad's only hope is that those civilians will just shelter in their homes. «Ominous days for them ahead,» Giglio writes.
The offensive, in broad strokes: The «Mosul strategy targets ISIS from four sides,» wrote Middle East scholar Hassan Hassan. «Tel Afar [and the] Nineveh plain are major fronts in their own right. Joint forces are based in Qayyara. Forces to the city's western side will be mostly to prevent ISIS from redeployment into Syria.» Read his entire Twitter thread on key considerations from the battle, beginning here.
For what it's worth: The IO efforts have already begun alongside the artillery and aircraft: an intelligence phone line for Mosul citizens to feed Iraqi troops info was spoiled by ISIS on Sunday.
The «defensive» suicide attacks have been coming at a rapid clip: 11 in roughly two hours, terrorism scholar Charlie Winter writes this morning.
About that relatively open route to the west: safety is not guaranteed, Brig. Gen. Yahya Rasoul, a spokesman for the Iraqi military, told the Washington Post.
One of the city's five bridges is already damaged. That happened on Saturday when coalition airstrikes targeted some boats on the Tigris, and destroyed part of the bridge in the process. For what it's worth, all five of the city's bridges were reportedly rigged to blow as recently as Wednesday.
Here's a 63-second video on the stakes of the Mosul offensive, via Agence France-Presse.
And Kurdish Rudaw News is live-streaming some of the action here.
U.S. officials toldThe Daily Beast the timeline for taking the city could take weeks or months. Recall, of course, that unnamed U.S. officials also said the offensive on Mosul would begin «in weeks.» That was 19 months ago.
Bring on the selfies. Here's one from an Iraqi pilot. Expect thousands more.
urkish President Recep Tayyip Erdogan says: «Don't forget me.» Although his actual quote was: «We will be in the operation and we will be at the table,» Erdogan said in a televised speech. «Our brothers are there and our relatives are there. It is out of the question that we are not involved.» More on that angle from AFP reporting out of Istanbul on Sunday, here.
Reminder: «While the Mosul operation is key to degrading the ISIS threat, there is risk in the coming weeks that ISIS external operations based in Raqqa will try surge terror into Europe,» terrorism analyst Paul Cruickshank tweeted Sunday.
October 20
Mosul sitrep: It's all proceeding «more quickly than we had programmed,» Iraqi Prime Minister Haider al-Abadi says. After three days of shaping fires, airstrikes and ground force maneuvers from multiple directions—as well as a personal appearance by Iraq's prime minister on Wednesday—Iraq's elite counterterrorism police of the Golden Division have entered the fight to retake Mosul from the Islamic State group. The force reportedly joined the fray around midnight east coast time, quickly finding itself in a fierce battle in the town of Bartella, some 20 kms east of Mosul. (That town was declared «liberated» of ISIS some seven hours later.)
About an hour before the Golden Division's first reported movement, a linked «large-scale» offensive began featuring Peshmerga troops converging on the country's second-largest city from three fronts along the north and northeast, Kurdistan's General Command announced. Buzzfeed's Mike Giglio said the Pesh hope to follow behind the CT police in the hopes of clawing back more than 15 villages on the city's outskirts. The fight, of course, has not been without its harrowing moments—as this video of Pesh desperately working to prevent an ISIS suicide car bomber from reaching their front lines reveals.
FPI Resources on the Fight for Mosul and Beyond
The U.S.-led coalition has begun its advance against Mosul, Iraq's second-largest city and a stronghold of the Islamic State (ISIS, ISIL, Daesh) for the past two years.  Although the Iraqi Security Forces (ISF) have been reconstituted to some degree after Mosul's fall in 2014, this offensive is still a hodge-podge effort with the ISF and Sunni, Shia, and Kurdish militia forces.  Furthermore, the Obama administration appears to have conducted little effort in considering how the United States and Iraq should stabilize the region after ISIS' ouster.  President Obama and his successor should recognize that stabilizing Iraq will require a long-term commitment to resolving the country's endemic political, ethnic, and sectarian instability.
The Foreign Policy Initiative (FPI) is closely monitoring the coalition's offensive against Mosul, and believes the following resources will be helpful for office-holders, candidates, the media, and the general public understand what the stakes are for the region, and how the United States should proceed against ISIS under the new administration.
The Campaign for Mosul: October 24, 2016
– Institute for the Study of War – October 24, 2016
"The Iraqi Security Forces (ISF) and Peshmerga contested ISIS's hold over significant urban centers in Mosul's environs from October 22-24, 2016. In response, ISIS continued to launch suicide attacks against advancing security forces and to attack far-flung areas in a diversionary tactic."
Syrian Opposition Plans Operation to Break Aleppo Siege – Jennifer Cafarella – Institute for the Study of War – October 24, 2016
"Syrian armed opposition groups are preparing a counteroffensive to break the siege of Aleppo for a second time since the regime initially imposed a siege on July 28, 2016….The Jaysh al Fatah coalition, an alliance of opposition groups under the leadership of Jabhat Fatah al Sham – al Qaeda's successor in Syria – and Syrian Salafi-jihadi group Ahrar al Sham, will lead the counteroffensive….A successful operation to break the siege of Aleppo could enable the United Nations to deliver desperately needed humanitarian aid to over 250,000 starving civilians. It would also have negative second order effects, however. It would further limit the already constrained policy options available to the next U.S. president by cementing the leadership of Jabhat Fatah al Sham and Ahrar al Sham over Syrian opposition groups that were previously reconcilable to US interests."
The Battle for Mosul Thus Far – Editorial – Wall Street Journal – October 24, 2016
"Defeating Islamic State in Mosul is a vital U.S. interest, but the only way the next Administration will be able to prevent an Islamic State resurgence or Iranian domination of the region is a long-term U.S. deployment in Iraq of several thousand troops, both for political leverage with Iraq and other regional players and as a regional rapid-reaction force."
America Must Prevent Iraq From Falling Apart Again – James Jeffrey – Foreign Policy – October 20, 2016
"President Barack Obama's 'light footprint' military deployment — which consists of advisory and training units, intelligence assets, special forces, and air power — is fine. But this is not some 'proof of concept' exercise; the priority is to win, with whatever brute American force necessary, short of tens of thousands of ground troops. Likewise, Washington must coordinate the 'day after' relief operation openly if needed and the governance efforts behind the scenes. It will be the next U.S. administration's central task in Iraq to build on the Mosul success."
The Day After – Interview with General Jack Keane, USA (Ret.) – The Cipher Brief – October 16, 2016
"First, we know for a fact that the improvised explosive device (IED) defenses, mines, and tunnel systems are extensive in Mosul, and that will take some time to breach as we saw in Fallujah and Ramadi. Second, despite all that engineering work, it's unknown how stiff a resistance ISIS will put up. The last time they truly defended in place was in Kobane, Syria, and they took staggering losses there. They truly have not done that since. They didn't do that in other towns in and around northern Iraq, they didn't do it in Fallujah, they didn't do it in Ramadi. What they did is put up some resistance but commit the majority of their forces to depart, so that they could be salvaged to fight another day. I think what intimidates ISIS the most is the idea of Iraqi ground forces fixing them in place with ground fire so that they are unable to maneuver, and then destroying them with air power. So how much resistance they're going to put up is unknown."
The Islamic State After Mosul – Hassan Hassan – New York Times – October 24, 2016
"The war against the Islamic State is unwinnable without filling the political and security vacuum that now exists in too much of Iraq. The Islamic State's eventual retreat from Mosul will be a much-needed victory for the country. But unless the government in Baghdad enables Iraqi Sunnis to fill that void, it will once again emerge from the desert."
After the Battle for Mosul, Get Ready for the Islamic State to Go Underground – Patrick Ryan and Patrick Johnson – War on the Rocks – October 18, 2016
"The clearance of Mosul – the Islamic State's declared capital in Iraq, and the group's long-time center of gravity – is vital for the ultimate defeat of the group. Even more important, however, will be what comes next. While policymakers should dedicate significant energy and resources to re-establishing governance and rebuilding the city's shattered infrastructure and economy, the counter-ISIL coalition must first consolidate and fully exploit its initial military gains. The coalition cannot afford to repeat the mistakes of the last decade, allowing the group to survive under the radar only to re-establish influence and control."
Related