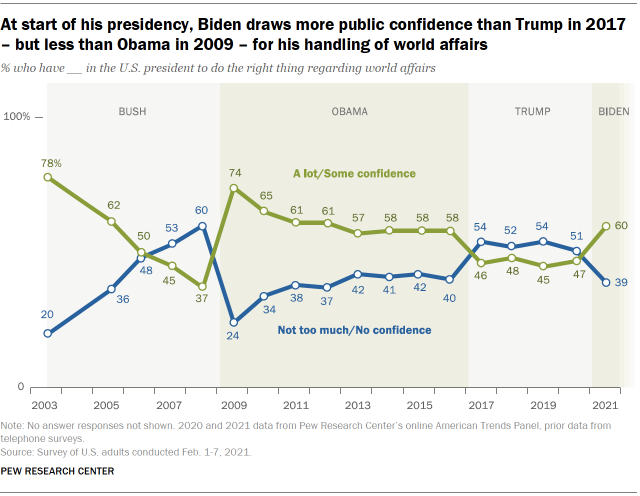 Sharp partisan divides, even as most support international cooperation and see importance of respect for U.S. around the world
President Joe Biden begins his term with a majority of Americans having confidence in his ability to handle international affairs. In a new Pew Research Center survey, 60% of U.S. adults have confidence in Biden on foreign policy – fewer than said the same of Barack Obama as his presidency began (74%) but more than for Donald Trump in his first year (46%).
But the sharp partisan divides in views of the presidential election and its aftermath are also reflected in attitudes about U.S. foreign policy, particularly Biden's handling of world affairs. Nearly nine-in-ten Democrats and Democratic-leaning independents (88%) express confidence in Biden's ability to handle foreign affairs, compared with only 27% of Republicans and Republican leaners. Just 17% of conservative Republicans say they have confidence in Biden's handling of foreign policy. Among moderate and liberal Republicans, 42% say this. Conservative and moderate Democrats are about as confident in Biden's foreign affairs ability as are liberal Democrats.
Large majorities of Americans say it is important that the United States is respected around the world (87% say it is very or somewhat important) and that Biden's leadership will result in other countries viewing America more positively (69% say this). A recent Center survey in France, Germany and the United Kingdom demonstrates how Biden's election has improved America's standing among those European allies after a sharp downturn during the Trump administration.  Younger Americans are less willing than older adults to say it is important the U.S. is respected by other countries.
Nearly two-thirds of Americans or more also say the U.S. benefits a great deal or a fair amount from being a member of international bodies such as NATO, the United Nations and the World Health Organization (WHO), the latter of which the U.S. just rejoined under the Biden administration. More than eight-in-ten Democrats see benefits in membership for each organization. But only 38% of Republicans say the U.S. benefits by being a member of the WHO, with 46% saying the same about the UN, even as more Republicans say a NATO membership benefits the country (55%).
As to America's role in the world, there is broad support among the public for working closely with U.S. allies. Nearly two-thirds (64%) say that the U.S. should consider the interests of other countries, even if it means compromising. Only 34% say the U.S. should follow its own interests, even when allies disagree. Americans expressed similar levels of support for working with other countries in 2018 and 2019.
Related
Biden Viewed Positively on Many Issues, but Public Is Less Confident He Can Unify Country