Declassified by Director of National Intelligence Avril Haines
Date: February 26, 2021
«Assessing the Saudi Government's Role in the Killing of Jamal Khashoggi»
Consistent with Sections 1277 and 5714 of the National Defense Authorization Act for Fiscal Year 2020 (P.L. 116-92) and with the commitment made during her January 19, 2021 nomination hearing before the Senate Select Committee on Intelligence, Director of National Intelligence Avril Haines today declassified an Intelligence Community assessment regarding the Saudi Government's role in the killing of Jamal Khashoggi.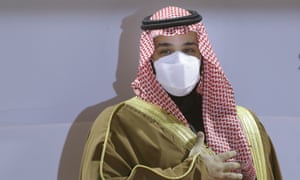 February 3, 2021 at 8:30 am
It seems that Saudi Arabia's Crown Prince Mohammed Bin Salman is prepared to go to any lengths at home and abroad to silence his critics. The barbaric killing of dissident journalist Jamal Khashoggi in October 2018 was proof of that, but the de facto ruler's attempts to hide the truth of the murder may have backfired spectacularly.
The paranoid prince is extreme in his efforts to exact revenge upon his enemies. International outrage has done nothing to curb his dark inclinations. If anything, the tempestuous Bin Salman has become even more prone to react to personal criticism.
Just this week, his blundering stooges were exposed trying to destroy the reputation of a major documentary directed by Oscar-winning Bryan Fogel, of Icarus fame, about the murder of Saudi-born Khashoggi. Had Fogel lived in the Kingdom he would almost certainly be in prison by now, along with thousands of other political prisoners who've dared to criticise Bin Salman.
Fogel believes that his movie became «too hot to handle» for some of the big names in the film industry. Using previously unheard transcripts, the film charts Khashoggi's brutal end inside the Saudi Consulate in Istanbul at the hands of a hit squad taking direct orders from the Crown Prince. It portrays Bin Salman as the ruler of a sinister regime that will resort to violence and extreme acts to shut down criticism. The film also reveals «the flies», the scores of people working on Bin Salman's behalf to keep positive news about him trending and bad news out of sight.
Related
Bryan Fogel on Why Netflix and Streamers Were Scared of Releasing 'The Dissident'