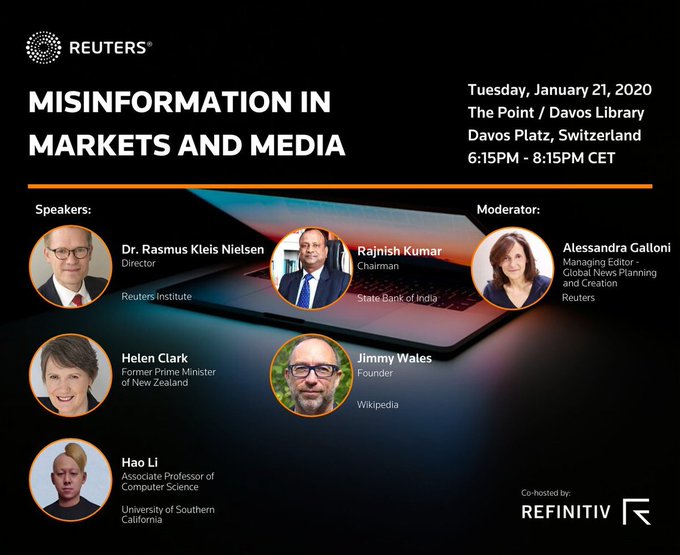 Reuters Institute
@risj_oxford

-«It is increasingly difficult to know what's true and what's false,» says
-«Across 38 countries, on average 55% of the people in our survey find it hard to distinguish between truth and fake. But this % differs from country to country,» says
–
«Across the 38 countries we survey, only 49% of the public trust the news they rely on,» says
@rasmus_kleis
–
«The problem we face is that people don't trust public institutions and sometimes they are right not to trust them,» says
, who mentions Iraq War and climate change denial as examples of misinformation
–
«People tend to trust upmarket newspapers, news agencies and broadcasters that are heavily regulated. And they are skeptical of tabloids and partisan papers,» says
@rasmus_kleis
–
«Deep fakes are only the beginning. We can create things that no one can say whether they are true or false,» says
@HaoLi81
at the
He shows how anyone can impersonate Leo Messi or
@LeoDiCaprio
-«Less than half the public trust the news they rely on … The wider problem is that the public doesn't trust established institutions and sometimes they are right not to trust them … So don't judge the public when they judge us harshly."
@HelenClarkN
Z –
«Social media platforms started with a good intent. They wanted to connect people. The problem is that some people are not benign,» says
, who mentions what happened in
#Christchurch
at the misinformation panel at
#Davos2020
–
«Fake news has zero impact on
n@wikipedia
. The reason is that our community of editors are quite vigilant and quite experienced. False stories don't get very far,» says
@jimmy_wale
–
.
@jimmy_wales
mentions his experience launching
@WikiTribune
, an alternative to
@twitter
with no paywall and no ads
–
«Something that is blatantly false is taken down in five minutes on average at
@wikipedia
» says
–
«The approach from
@reuters
and
@Wikipedia
is not to take down everything that is wrong but to provide a space that is trustworthy,» says
@rasmus_kleis
–
«Freedom of speech is a fundamental human right. So we have to think in those terms. As a company,
@Facebook
should take things seriously misinformation in apps like
@whatsapp
,» says
–
«There is not a clear pattern on what to do about platforms & misinformation. Germany has been very proactive and levels of distrust are low. But Nordic countries have done almost nothing and distrust is low too,» says
@rasmus_kleis
–
«The problem with regulating misinformation is that there may be edge cases. And who will make the decision in those? Mark Zuckerberg?
@sundarpichai
? Who gets to say what's published and what's not? This is tricky territory,» says
@jimmy_wales
-How to regulate tech platforms? Read our recent report on media public policy the EU here
reutersinstitute.politics.ox.ac.uk/risj-review/wh
–
«Reliance on social media diversifies news consumption: they consume news from more sources and from more diverse sources,» says
@rasmus_kleis
. «I don't know anyone under 40 who would trade our current media environment for any other»
–
Our seminar series, chaired by
@MeeraSelva1
at
@greentempleton
, starts this Wednesday with a talk by
@dragz
on the truth behind echo chambers. All the seminars are open to everyone. Learn more about the speakers here reutersinstitute.politics.ox.ac.uk/business-and-p