The Intergovernmental Conference to Adopt the Global Compact for Safe, Orderly and Regular Migration 
 takes place in Marrakech, Morocco on the 10th and 11th of December, 2018.
The Conference is convened under the auspices of the United Nations General Assembly and is held pursuant to resolution 71/1 of 19 September 2016, entitled «New York Declaration for Refugees and Migrants,» which decided to launch a process of intergovernmental negotiations leading to the adoption of the Global Compact for Migration.
The modalities for the Conference were further elaborated in resolutions 71/280 of 6 April 2017, 72/244 of 24 December 2017 and 72/L.67 of 31 July 2018.
Many worldwide oppose more migration – both into and out of their countries
As the number of international migrants reaches new highs, people around the world show little appetite for more migration – both into and out of their countries, according to a Pew Research Center survey of 27 nations conducted in the spring of 2018.
Across the countries surveyed, a median of 45% say fewer or no immigrants should be allowed to move to their country, while 36% say they want about the same number of immigrants. Just 14% say their countries should allow more immigrants. (Those who said no immigrants should be allowed volunteered this response.)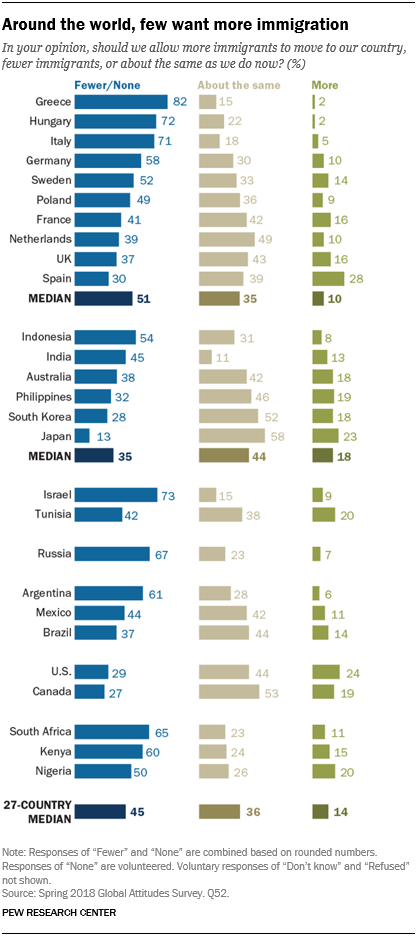 Más de 150 países aprueban el Pacto Migratorio mundial de la ONU MIGRACIÓN CUMBRE (Ampliación)

Marrakech (Marruecos), 10 dic (EFE).- El Pacto Mundial para una Migración Segura, Ordenada y Regular de Naciones Unidas (ONU) ha sido aprobado hoy por más de 150 países que asisten a la conferencia intergubernamental de la ONU organizada en la ciudad marroquí de Marrakech.

La aprobación fue por aclamación durante la sesión plenaria presidida por el secretario general de la ONU, Antonio Guterres; la presidenta de la Asamblea General de la ONU, María Fernanda Espinosa, y Naser Burita, el ministro de Exteriores de Marruecos, país anfitrión de la conferencia.

Durante su intervención, Guterres lanzó un mensaje a los países que se han negado a firmar el pacto o que han expresado sus reservas sobre el texto o han pedido tiempo, afirmando que «no es un tratado» y que «no es jurídicamente vinculante» y dejando la puerta abierta a que se sumen más adelante.

El texto garantiza «el derecho soberano de los Estados a determinar sus política de migración y su prerrogativa para gobernar la migración dentro de su jurisdicción, en conformidad con el derecho internacional», insistió el secretario general.

Al mismo tiempo que lamentó la existencia de «falsedades» sobre el documento y el fenómeno migratorio en general.

Por su parte, la presidenta de la Asamblea General de la ONU, María Fernanda Espinosa, reiteró que el documento es un instrumento flexible que se adapta a las necesidad nacionales de los Estados.

«Es un momento histórico porque damos un rostro humano a la emigración», precisó Espinosa, antes de añadir que los Estados «por más poderosos que sean, no pueden afrontar el reto migratorio solos».

Quince jefes de Estado, ocho primeros ministros y numerosos cancilleres y responsables tomaron parte en este encuentro que durará dos días.

Países, sobre todo receptores de emigrantes, como Australia, Chile, Italia, Israel y un numeroso grupo de los centroeuropeos se han retirado del pacto en las pasadas semanas y hasta ayer, mientras que Estados Unidos se opuso a él desde el principio.

Para responder a las reticencias despertadas, todos los oradores que hoy tomaron la palabra insistieron en que la soberanía de los estados no se verá de ningún modo disminuida y recalcaron que la migración plantea problemas globales y requiere soluciones globales. EFE

fzb/fjo/mr

(foto) (audio) (vídeo) 10-12-2018, 09:56:00

ONU-migrations-diplomatie Le pacte mondial sur les migrations de l'ONU formellement approuvé à Marrakech

Marrakech (Maroc), 10 déc 2018 (AFP) – Le Pacte mondial sur les migrations des Nations unies a été formellement approuvé lundi à Marrakech (Maroc), après proclamation orale et avec le traditionnel coup de marteau, devant quelques 150 pays réunis en conférence intergouvernementale.

Soulignant les «efforts» consentis pour parvenir à ce pacte, le secrétaire général de l'ONU, Antonio Guterres a exhorté à ne «pas succomber à la peur ou aux faux narratifs» sur la migration.

S'exprimant à l'ouverture des débats, il a dénoncé les «nombreux mensonges» à propos d'un texte qui a soulevé les critiques des nationalistes et des partisans de la fermeture des frontières.

Ce texte, destiné à renforcer la coopération internationale pour une «migration sûre, ordonnée et régulière», doit encore faire l'objet d'un ultime vote de ratification le 19 décembre à l'Assemblée générale des Nations unies.

La conférence de Marrakech devait être une étape purement formelle dans ce processus mais, le sujet déchaînant les passions, une quinzaine de pays ont fait part de leur retrait ou du gel de leur décision sur le pacte.

Près de 160 des 193 pays représentés à l'ONU étaient annoncés à Marrakech, avec une centaine d'entre eux représentés au niveau des chefs d'Etat, chefs de gouvernements ou ministres.

Lundi matin, il était encore impossible de connaître dans les détails les présents et les absents, en l'absence de toute liste officielle.

Non contraignant, le Pacte recense des principes -défense des droits de l'Homme, des enfants, reconnaissance de la souveraineté nationale- et liste des propositions pour aider les pays à faire face aux migrations –échanges d'information et d'expertises, intégration des migrants… Il interdit les détentions arbitraires, n'autorisant les arrestations qu'en dernier recours.

Les défenseurs des droits de l'Homme le trouvent insuffisant, notamment sur l'accès des migrants à l'aide humanitaire et aux services de base ou sur les droits des travailleurs migrants. Ses détracteurs le voient comme un encouragement à un flux migratoire incontrôlé. sof/gk
Related
Pacto Mundial sobre Migración: ¿a qué obliga y qué beneficios tiene?
La mayoría de países de la ONU adoptan el primer pacto sobre migración
El primer pacto migratorio mundial se abre paso frente al nacionalismo