(Stockholm, 15 June 2020) The Stockholm International Peace Research Institute (SIPRI) today launches the findings of SIPRI Yearbook 2020, which assesses the current state of armaments, disarmament and international security. A key finding is that despite an overall decrease in the number of nuclear warheads in 2019, all nuclear weapon-possessing states continue to modernize their nuclear arsenals.
Preventive Priorities Survey Results (Council on Foreign Relations)
In CFR's annual Preventive Priorities Survey, U.S. foreign policy experts assess the likelihood and impact of thirty potential conflicts that could emerge or escalate in the coming year.
Related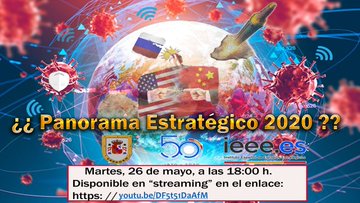 Every four years since 1997, the National Intelligence Council has published an unclassified strategic assessment of how key trends and uncertainties might shape the world over the next 20 years to help senior US leaders think and plan for the longer term. The report is timed to be especially relevant for the administration of a newly elected US President, but Global Trends increasingly has served to foster discussions about the future with people around the world. We believe these global consultations, both in preparing the paper and sharing the results, help the NIC and broader US Government learn from perspectives beyond the United States and are useful in sparkling discussions about key assumptions, priorities, and choices.
Enlace a video de presentación
For the 2020 Global Risks Report press release, click here.
RAMSES 2021. Le grand basculement ? septembre 2020
Introduction : Après le virus, par Dominique DAVID (en libre lecture)
Editor's Introduction (Feb 2020)
Resumen del contenido
China's armed forces: 'informatisation' and 'intelligentisation'
The renewed focus on electronic warfare
The space domain: towards a regular realm of conflict?
Comparative defence statistics
Latin America and the Caribbean

Global Peace Index 2020 Briefing

With the 28th edition of the Conflict Barometer, the HIIK continues its annual series of reports covering political conflict dynamics and developments worldwide.
Despite a slight decrease compared to 2018, this year was marked by the continuation of most highly violent conflicts. In Sub-Saharan Africa, the Americas, and the Middle East and Maghreb (MENA) region, 15 conflicts were fought on war level. Of these, two intrastate conflicts in the DR Congo's northeastern provinces, the drug trafficking conflict in Brazil, as well as the conflict spurred by Islamist groups in the Sahel zone escalated to full-scale wars. In total, 23 limited wars were observed worldwide. Six violent crises in Sudan, Mozambique, Myanmar, Indonesia, and Iraq escalated to limited wars. Meanwhile, the wars between farmers and pastoralists in Nigeria, militias and the government of the DR Congo, as well as the inner-opposition conflict in Syria de-escalated to limited wars. The global trend towards an increase of non-violent conflicts continued in 2019. Overall, 162 of the 358 total observed conflicts played out on a non-violent level. Furthermore, international media coverage particularly shed light on this year's salient social and anti-government protests, notably in Chile, Hong Kong, and Iraq
COVID-19 Risks Outlook: A Preliminary Mapping and its Implications