Syria enters fifth year of conflict
Rights groups say the world has failed Syria as war leaves 220,000 people dead and half the country's people displaced.
Diplomacy remains stalled , with two rounds of peace talks achieving no progress and even a proposal for a local ceasefire in Aleppo fizzling out.
The conflict began as an anti-government uprising, with protesters taking to the streets on March 15, 2011, inspired by similar revolts in Egypt and Tunisia.
But a government crackdown on the demonstrations prompted a militarisation of the uprising and its descent into today's multi-front conflict…
The fallen leaves of the Arab Spring
The tormenting scent of Rosa Damascena
To understand Syria today, we must look to history
Syria is dead, long live the Syrians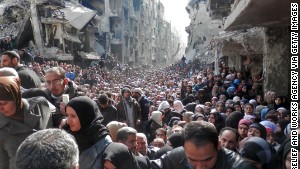 Syria's four years of hell — a death every 10 minutes
Taming ISIS on Twitter: More than whack-a-mole
Who is to blame for Jihadi John?
US Secretary of State John Kerry says he wants to
«re-ignite» negotiations with President Bashar al-Assad to end the conflict in Syria.
Speaking as the war enters its fifth year, Mr Kerry said it was «one of the worst tragedies any of us have seen».
He said the international community was upping pressure on Syria's regime to hold new peace talks, saying «we have to negotiate in the end» with Mr Assad.
Syria After Four Years: Timeline Of A Conflict
The conflict in Syria has entered its fifth year, a grim anniversary in what has become the worst humanitarian crisis of our time.
It began on March 15, 2011 when the Syrian government met mostly peaceful protests in several towns and cities with gunfire, beatings and arrest.  Eventually, the once-peaceful opposition acquired weapons, soldiers defected, and the uprising transformed into a grinding civil war with ugly sectarian dimensions that has sucked in countries across the region and further afield. An estimated 220,000 people have now been killed and life expectancy has dropped two decades to 55 years, according to the United Nations. 3.9 million people have fled the country, and a further 7.6 million have been internally displaced.
Syria's economy has collapsed and 80 percent of the country now lives in poverty. Half of all school-aged children haven't attended school in three years. The country has literally gone dark, with 83 percent of electricity supplies are now cut.
Isis, carnage and 3.5m refugees: a day devoted to Syria's four-year war
 Four years on from the start of the Syria conflict in March 2011 more than 200,000 people have died, whole cities have been reduced to rubble and almost half the population has been uprooted in the biggest refugee crisis since the second world war. With outside diplomacy in deadlock, solutions to the bloody conflict are hard to imagine
As we've published such a lot of material today, here's a quick guide:
Impact of the crisis