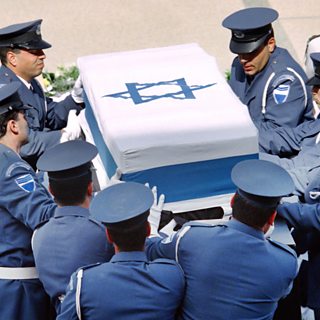 The 1990s began with high hopes for peace, never higher than when Palestinian leader Yasser Arafat and Israeli prime minister Yitzhak Rabin shook hands on the White House lawn. By 1995, Rabin – a former general trusted by Israelis as "Mr Security" – was preparing to make the moves, including the handover of territory in the West Bank and Gaza, that might have resolved the conflict once and for all.
On November 4, Rabin addressed a peace rally in Tel Aviv, joining in with the crowd as they sang Shir l'Shalom – Song for Peace. As he left the stage, a Jewish extremist stepped forward and fired two bullets into his back. Those bullets not only killed Rabin, they stopped the peace process dead. Rabin was replaced within months by Binyamin Netanyahu, and the country took a very different path, the path on which it remains 25 years later.
Jonathan Freedland speaks to those who were there – Rabin's bodyguard who pounced on the assassin, his closest political adviser who was with him as he died, his grand-daughter whose eulogy moved the world. They are unified in their belief that the killer achieved every one of his aims – stopping peace and condemning both peoples to apparently endless war – making this the most successful assassination in history. Written and presented by Jonathan Freedland Produced by Sarah Peters Researcher: Jonathan Cummings Executive Producer: Iain Chambers.