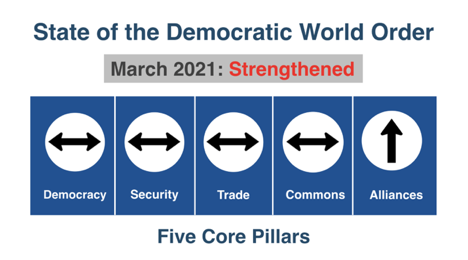 Reshaping the order
This month's topline events
US-China Showdown. In the first high-level meeting of US and Chinese officials since President Joe Biden took office, US Secretary of State Tony Blinken and national security adviser Jake Sullivan publicly called out China's threats to the rules-based order and its "assault on basic values." Chinese Foreign Minister Wang Yi and top diplomat Yang Jiechi countered with a fifteen-minute rebuttal extolling China's virtues and castigating America's foreign military interventions and "deep seated human rights abuses." The two-day private meetings that followed were described as "candid" and expansive."
Shaping the order: The unusually frank comments and public acrimony between top US and Chinese officials suggest that relations between the two nations are headed toward a downward spiral, as the Biden administration elevates US concerns over human rights and other Chinese actions undermining the rules-based order.  
Hitting Home:  The Biden administration's actions reflect a bipartisan consensus in Congress to stand up to Beijing's growing assertiveness and defend US security and economic interests.
What to do: The administration should be commended for its willingness to publicly confront Beijing on its actions in Xinjiang, Hong Kong, and other areas of concern. It should follow the meetings in Alaska by working closely with allies and partners to develop a clear plan of action to hold Beijing accountable for its continued violations of international norms.
Indo-Pacific Quad and NATO.  President Biden joined the leaders of Australia, Japan, and India for the first-ever summit of the Indo-Pacific Quad, held virtually, that resulted in a joint statement committing to a region that is "free, open, inclusive, healthy, anchored by democratic values, and unconstrained by coercion." The Summit was preceded by Secretary of State Blinken's and Secretary of Defense Austin's first visit to Asia to meet with Japanese and Korean officials. After the summit, Blinken went on to make his first visit to Europe, where he met with EU officials and NATO foreign ministers and pledged to revitalize the transatlantic alliance.
Shaping the order: The Biden administration's decision to elevate the Quad to leaders' level and its early diplomatic forays into Asia and Europe signal a clear commitment to reinvigorate US democratic alliances and partnerships. Despite concerns that Donald Trump's repeated denigration of allies caused lasting damage, America's return to the global stage has been warmly received and suggests that allies continue to view American leadership as essential to addressing global challenges.
Hitting Home: Working with allies strengthens America's ability to respond to global threats and challenges and could lead to greater security for the United States and its citizens.   
What to do: The administration should follow these important visits to Asia and Europe with an effort to bring allies across regions together to address key challenges, including by forging a new D-10.
China-Iran Axis. China and Iran signed a sweeping 25-year economic and security cooperation agreement in which China agreed to invest $400 billion in Iran, potentially including railroads, ports, and 5G networks, in exchange for a steady and heavily discounted supply of oil. The agreement reportedly called for deepening military cooperation, including joint training and exercises, joint research and weapons development, and intelligence-sharing.
Shaping the order:  The agreements indicate that China's efforts to expand its influence in the Middle East are yielding success. The move reinforces the consolidation of a growing bloc of authoritarian nations eager to blunt the  liberal, democratic world order.
Hitting Home: China's investments in the Iranian economy could help strengthen Tehran's ability to engage in terrorist activities against American Interests.
What to Do: The United States should look to reenter negotiations over Iran's nuclear program that include constraints on its malign regional influence. At the same time, the Biden administration should invest in an alliance of democracies to strengthen coordination on shared challenges, including Iran.  
Quote of the Month

"The United States relationship with China will be competitive where it should be, collaborative where it can be, adversarial where it must be….Our intent is to be direct about our concerns, direct about our priorities, with the goal of a more clear-eyed relationship between our countries moving forward."– US Secretary of State Tony Blinken