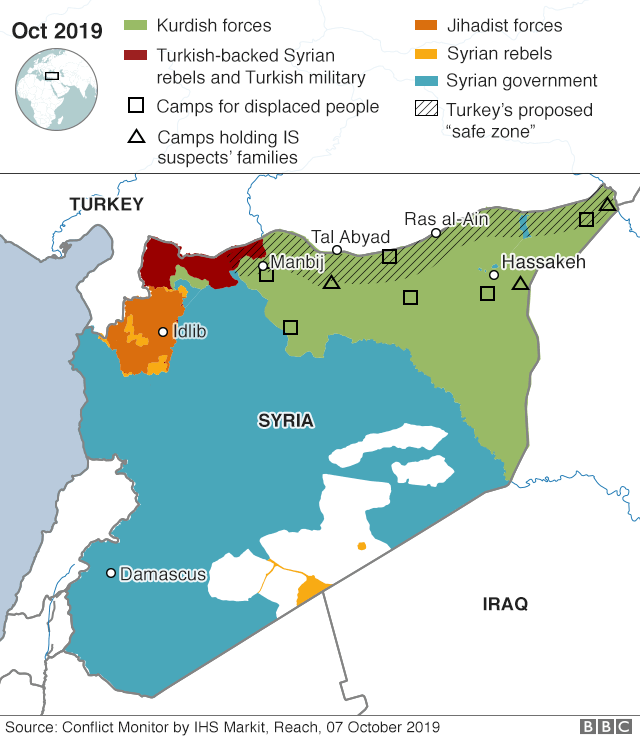 Fierce battle rages in Ras al-Ain (BBC, Oct 12, 2019)
More on this story
Trump's week of confusion

Video

 

Why is Turkey bombing the Kurds?

'We have no friends but the mountains'

Four maps explaining offensive

Could Turkish offensive unleash IS threat?

 
US could have prevented Turkey's military action on Syria AJE  by Abdulla Hawez
Syrian gov't and Kurdish-led Syrian Democratic Forces (SDF) held talks at Russian airbase in Syria, says Ahmed Suleiman, Syrian Kurdish politician
AJE latest updates
Defense secretary: Trump orders remaining US troops from northern Syria
(CNN)President Donald Trump is ordering the remaining US forces out of northern Syria, Defense Secretary Mark Esper said Sunday, a development that has paralyzed the fight against ISIS and ceded US and Kurdish battlefield gains to Moscow and Damascus.
«We have American forces likely caught between two opposing, advancing armies and it's a very untenable situation. I spoke with the President last night, after discussions with the rest of the national security team, and he directed that we begin a deliberate withdrawal of forces from northern Syria,» Esper said on CBS' «Face the Nation.» «Which is where most of our forces are.»
In explaining the decision, Esper also said that «in the last 24 hours» the US had learned that America's primary ally in the fight against ISIS, the Kurdish-led Syrian Democratic Forces, were «looking to cut a deal» with the Syrian regime and their Russian backers in order to «counter attack against the Turks in the north,» something the SDF leadership had told America it would do in the absence of US assistance in the face of Turkish attacks.
Despite Esper saying the US only learned of the effort in the last 24 hours, CNN has reported that the SDF commander told a senior US diplomat Thursday that this was his intent.
Republican lawmakers in particular 
have harshly denounced Trump's decision as a betrayal of the Kurds and a strategic blunder that will weaken American credibility, reverse gains against ISIS, make it harder for the US to build alliances and give a boost to Russia, China and Iran.
Regalo de Trump a Putin (Washington Post, Oct 14, 2019)
Who are the Kurds, and why is Turkey attacking them?
Who's Who in Northern Syria? -CFR, By Lindsay Maizland. October 11, 2019)