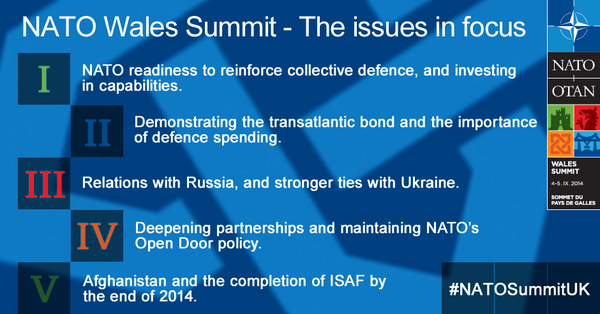 RELATED from the Financial Times

The Economist
✔
@TheEconomist
NATO is back in the business
El Espectador Global:

OTAN: frentes, fronteras y vectores –

por

Andrés Ortega

2/09/2014
El Real Instituto Elcano elabora de forma regular una selección de textos internacionales destacados. El 4 de septiembre de 2014 distribuía el Nº 522 de la serie, dedicado íntegramente a la cumbre de la OTAN en Gales que se iniciaba ese día y los retos principales en su agenda de trabajo. La recojo a continuación como ejemplo del excelente trabajo del think tank español.
DOCUMENTOS

Each Nato ally has to pull its weight after Russia's threats
"The post-cold-war world order is at stake. So Nato is needed more than ever. In Wales, we are determined to show that Nato means business".
05/VIII/2014 Anders Fogh Rasmussen, FT

10 things you need to know about NATO
Qué es la Alianza Atlántica, cómo ha crecido, en qué se ha convertido y qué se puede esperar de ella, en una breve hoja informativa de la OTAN.
Septiembre 2014, NATO

Why Defense matters: a new narrative for NATO
Judy Dempsey analiza porqué es el momento de que los aliados se sumerjan en un debate estratégico sobre la importancia de la Defensa.
14/VII/2104 Heribert Dieter, SWP

Our 5 priorities for the NATO Summit Wales 2014
El gobierno británico enumera sus prioridades de cara la cumbre aliada de Gales.
01/IX/2014 Prime Minister's Office, 10 Downing Street

The three cyber-security challenges facing NATO
El ámbito ciber forma parte ya de los conflictos del mundo actual. La OTAN tiene que prestarle una atención especial.
13/VIII/2014 Jarno Limnéll, International Business Times

Is NATO back? That depends on Germany
El gobierno británico enumera sus prioridades de cara a la cumbre aliada de Gales.
28/VIII/2014 Emily Cadei, OZY

NATO on Duty
Mapa interactivo que contiene, entre otros elementos, las misiones y los despliegues de la OTAN, la contribución de los aliados y de los socios, y las capacidades.
MULTIMEDIA

Road to the NATO Summit
Derek Chollet, del Departamento de Defensa de EEUU, habla del futuro de la seguridad transatlántica en la German Marshall Fund.